1891

In English

Hafan

Addysg

Amodau Cymdeithasol

Bywyd yn y Cartref

Cyfraith a Threfu

Cymuned

Diwylliant

Gofal Iechyd

Gwaith

Powys: Y Pryd Hynny a Nawr

Trafnidiaeth


Mynegai


E-bost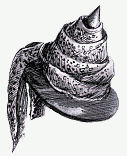 Boned, o ddigrifiad yn Queen, fel a welwyd yn y
Brecon & Radnor Express, 3 April 1891
Llyfrgelloedd Sir Powys
Bywyd yn y Cartref
Ffasiwn yn y Papurau Newydd
Ynghyd â chynnig newyddion a hysbysebion lleol, roedd papurau newydd hefyd yn cynnig gwybodaeth am ffasiwn ambell waith.
Yn Chwefror, roedd y Brecon and Radnor Express yn cynnwys y dyfyniad canlynol:
"The briefest description given of the prevailing style is conveyed in the following words: "Straight skirts, long waists, high sleeves and collars," and that may be taken as a good general idea of what is worn, in that it applies to "all sorts and conditions of" attire, visiting, morning, walking, &c. . . ."
Roedd yr un rhifyn hefyd yn cynnwys dyfyniad o Myra's Journal.

Dyfyniad o Myra's Journal, o'r Brecon & Radnor Express,
6 Chwefror 1891
Llyfrgelloedd Sir Powys

"The most fashionable woollens, besides cloth, which is more popular than any other woollen fabric, are rough, hairy, but soft and supple materials made in close resemblance of goat skin or Thibet fur, snowflakes, and pekins in alternate stripes of velvet and wool, with large broché round or oval spots on a darker or similar coloured ground on the woollen stripes; in many instances these spots are covered with long hairs, and some woollens have the broché design all over the surface. Patterns of this formal kind are very fashionable, but there are scarcely any broché woollens with floral designs. In silken fabrics, the most popular are silks and satins in dark or light shades, shot with gold, or with broché designs partly woven in gold thread. Some lovely specimens of these materials have mauve, pale blue, or tender green ground on which are lightly scattered delicate flowers or sprays of roses with gold thread interwoven in the design, dark satins have the patterns in colours that melt one into the other, outlined with gold. Blue in all shades is likely to be the most fashionable colour for some time to come; other colours in vogue are almond green, dahlia, ruby, poppy red, and marigold. This last, and indeed all shades of yellow, is employed for evening dresses and for chapeaux, in which case it is combined with jet ornaments and black feathers. After the broad brimmed hats, which are as popular as ever, the most fashionable coiffures are little draped toques and capotes; the capotes are a little longer in shape than the toques, and are usually a trifle higher in front where the trimming of ribbon with feathers, wings, or a bird, is placed. Toques are rounder in shape and are more often trimmed at the side or back than in front. Feathers are used in greater profusion than ever as ornaments for ball and evening toilettes, and form a charming contrast to the glitter of bead embroideries and fringes, both in character and in colour; black feathers look extremely well with turquoise, ruby, amethyst, and pink coral beads, and constitute very original garnitures."

Ar 3 Ebrill, rhoddwyd cryn dipyn o le i ffasiwn yn y Brecon & Radnor. Roedd y Ladies Gazette of Fashion yn nodi nad oedd siacedi byr yn ffasiynol; mai siacedi hir oedd yn gwneud y tro, ynghyd â siacedi Newmarket glas neu ddu gyda llabedi dwbl, coler syth, basg ddwfn a phocedi wrth y cluniau. Roedd clogynnau hyd tri chwarter hefyd yn ffasiynol. Gan fod gwanwyn ar y ffordd, awgrymwyd blodau i addurno hetiau: fioledau, briallu, lelog, wisteria, acasia, penlas yr yd a rhosynnau mewn lliw rhosyn, gwyrdd golau, oren golau a glas golau. Y siapau ar gyfer hetiau fyddai hetiau gwellt tri chornel, twrban, hetiau mawr fflat a hetiau 'plateau' mawr.

Roedd Sylvia's Journal yn dweud mai glas, melyn-frown cyfoethog, heliotrop a llwyd fyddai'r lliwiau ar gyfer gwisgoedd. Dylai llewys fod yn llawn at y penelin. Dywedodd y Ladies Treasury fod lês yn ffasiynol, fel addurn neu sgert uchaf.
Roedd gan Montgomery Express & Radnor Times hysbyseb i Weldon's ar 29 Medi:
"Weldon's Ladies' Journal for October, is brimful of fashions for the Autumn season. Two paper patterns, a chemise and petticoat bodice, also a coloured plate of Autumn designs, are presented with this issue, and explicit instructions for cutting every garment, paper patterns of which may be had, so that every lady should find no difficulty in making her dresses at home. A special lesson on dressmaking is given, instructing how to make a stylish bodice, also a millinery lesson, novelties in jewelled embroidery and a host of information useful to our lady readers. Number seventy of Weldon's Practial Needlework deals with Macrame lace. The number is illustrated with fine wood engravings, and instructions are given for working borders, baskets, bags, girdles, etc."
---