Bywyd yn y Cartref
Patrymau Gwau a Chrosio o Gasgliad Lewis Lloyd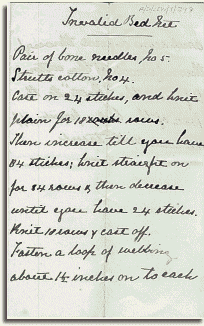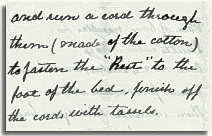 Patrwm gweu Invalid Bed Net
Archifau Sir Powys
Maer eitem ddiddorol hon yn swnio fel rhywbeth i ddal pethau?
Invalid Bed Net
Pair of bone needles, no. 5
Streetts cotton, no. 4
Cast on 24 stitches, and knit plain for 18 rows.
Then increase till you have 84 stitches; knit straight on for 84 rows and then decrease until you have 24 stitches.
Knit 18 rows and cast off.
Fasten a loop of webbing about 1 1/2 inches on to each and run a cord through them (made of the cotton) to fasten the "Rest" to the foot of the bed, finish off the cords with tassels.
---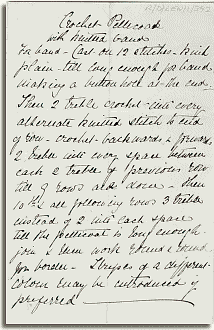 Pais wedi ei chrosio gyda band wedii wau
Archifau Sir Powys
Mae gan y bais hon fand canol wedi ei wau a sgert wedii chrosio. Maer cyfarwyddiadau till the petticoat is long enough. Join then work round and round yn caniatáu slit or canol at y cluniau ir sawl syn ei gwisgo, ei gwisgo ai thynnu i ffwrdd, fel sgert heb zip.
Crochet Petticoat with knitted band
For band - Cast on 12 stitches - knit plain - till long enough for band, making a buttonhole at the end.
Then 2 treble crochet with every alternate knitted stitch to end of row - crochet backwards and forewards 2 treble into every space between each 2 treble of previous row till 9 rows are done - then 10th and all following rows 3 treble instead of 2 into each space till the petticoat is long enough. Join and then work round and round.
For border - Stripes of a different colour may be introduced if preferred.
---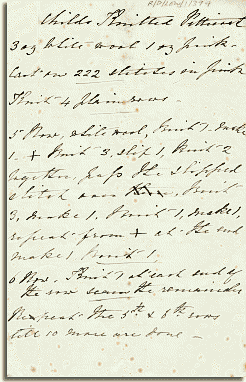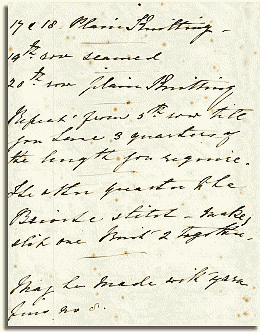 Pais Plentyn wedi ei gwau
Archifau Sir Powys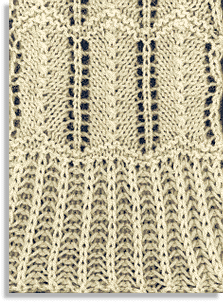 Patrwm pwyth pais wedi ei wau.
Mae Scan neu scanned yn golygu purl.
Mae pwythau Brioche yn creu ochr llac gyda ffril.
Margaret Reid
Mae ychydig o liw ym mhais y ferch yma, a bydd y patrwm yn creu effaith herringbone.
Childs Knitted Petticoat
3 oz white wool 1 oz pink
Cast on 222 stitches in pink. Knit 4 plain rows.
5th row. White wool, knit1 - make 1 * knit 3, slip 1, knit 2 together, pass the slipped stitch over, knit 3, make 1, knit 1, make 1, repeat from * at the end make 1, knit 1.
6th row. Knit 1 at each end of the row [Scan?] the remainder.
Repeat the 5th and 6th rows till 10 more are done -
17 & 18 - plain knitting
19th row - [scanned?]
20th row - plain knitting
Repeat from 5th row till you have 3 quarters of the length you require. The other quarter [in the ] Brioche stitch - make 1, slip one, knit 2 together.
May be made with yarn pins no. 8.

---
Maer patrwm pwythau hwn yn creu dolenni hir, syn creu patrwm cris croes wrth gael eu tynnu trwyi gilydd.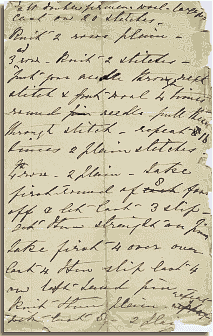 Patrwm pwythau
Archifau Sir Powys
½ lb double firmer wool - large pins.
Cast on 20 stitches
Knit 2 rows plain
3rd row - Knit 2 stitches - put your needle through next stitch and put wool 4 times round your needle - pull these through stitch. Repeat 16 times, 2 plain stitches.
4th row - 2 plain - take first round of 8 each four off and [?let ] last 3 slip [?] then string it on pins
Take first 4 over over last 4 then slip last 4 on left-hand pin
Knit them plain. Repeat - with last 8 - 2 plain.
Dylai edrych rhywbeth yn debyg i hyn: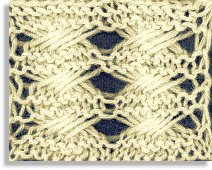 Sampl o bwyth wedi'i wau
---