2002

In English

Hafan

Addysg

Amodau Cymdeithasol

Bywyd yn y Cartref

Cyfathrebu

Cyfraith a Threfu

Cymuned

Diwylliant

Gofal Iechyd

Gwaith

Powys: Y Pryd Hynny a Nawr

Trafnidiaeth


Mynegai




E-bost
Cludiant
Teithio ar y ffyrdd
Yn ogystal â theithio i'r gwaith neu i'r ysgol, roedd llawer defnydd arall yn cael ei wneud o geir neu gerbydau eraill.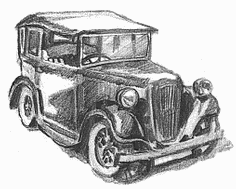 About once a month I drive to Sainsbury's supermarket in Hereford. I set off just before 9.00am just as the mums and their offspring were arriving at the local primary school opposite, in their 4 x 4s. It was a beautiful sunny day. The main road was busy, three lots of road works with traffic lights, so the 26 mile journey took 10 minutes longer than usual. I paid £1 for 2 hours parking. . . . About 6.45pm we set off in our vintage car to join fellow enthusiasts for our monthly meeting at Newcastle on Clun about 30 miles away.

Today we travelled in our blue Peugeot 306 car to Welshpool another market town 38 miles from here.


It is my wife's birthday so we drove to Welshpool as we have no bus or shop here.


My dad has 2 cars, a tractor, a trailer and a caravan


Weather sunny, wind cool: we decided to visit the Elan Valley, which we do 2 or 3 times a year, using our small motor home.

---