Civic and Community
Community Councillors and Officers
From the sixteenth century to the end of the nineteenth century ecclesiastical and civil administration at the parish level was supervised through the monthly vestry meetings. Under the Local Government Act of 1894 the two functions were finally separated, and parish councils were established to handle civil administration. Under the 1974 local government reorganisation community councils replaced parish councils.
Many diarists were involved in administration at this level either as clerks or councillors.
As clerk to a local community council there was much to do before a meeting at 7.30pm . . . The meeting ended about 9.45 and then it was home by car to watch TV . . .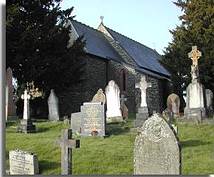 Llanyre village
Others say:
After a snack lunch, I settled down to prepare the minutes of Llanyre Community Council, of which I am clerk.

. . . photocopied notices for the next community council meeting, posted these with Minutes of the last meeting to the councillors.


. . . eat supper then off to the village hall for our community council meeting at 7.30pm. Meeting finished at 10.00pm.



The next Community Council meeting will be held on 2.10.02, which is an extra one because plans have been submitted to the planning department in Llandrindod Wells for three wind turbines at Pentre Tump. A public meeting is being held in New Radnor next Monday and the extra meeting has been called because the Community Council have to make their response by 9.10.02. Type the agendas out on the computer and print them off. I haven't mastered printing envelopes so I write them by hand. Each Community Councillor has the minutes of the last meeting included with their agendas. By 4pm the job is completed.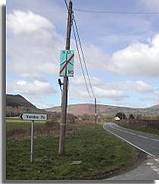 An anti-turbine poster
near Pentre tump

A typical day in the life of a community council can be seen here
Another diarist says:
After work I went to a governors meeting in Trefnanney Primary School where I am a representative of Meifod community council, of which council I am the present vice-chairman.
---