Community & Civic Life
A Day in the Life of . . . a Club Organiser
I woke at 7.40am, switched on the radio (4), listened to 'What the papers say', followed by 'Thought for the day'. Then the weather forecast, "fine in places, slight fog and frost in some places, showery further north." The news followed by a discussion on the Prime Minister's manifesto regarding going to war, with America, in Iraq.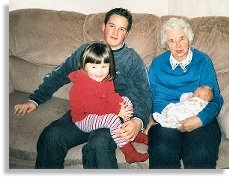 Club Organiser and grand children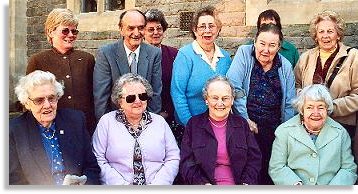 Bell Bank Club
I then had a bath (I dislike showers) made a cup of tea, which I drank while dressing. I had my breakfast, half a grapefruit, two Wheetabix with milk, one piece of toast spread with butter and honey. Made my bed. Took two small tablets, one for borderline under-active thyroid, not sure what the other is for. Washed up a few dishes etc. Hoovered my sitting room and bedroom. Mopped the kitchen and bathroom floors. Watered my house plants, fed the birds, filled the bird bath as no rain has fallen for several days.
11.15am made a milky coffee and enjoyed with a couple of digestive biscuits. Cooked a pork chop, made apple sauce, broccoli and potatoes followed by banana and cream. I usually cook in the evening but tonight I begin a computer course. At 2pm the phone rang. The new Rehabilitation Officer for the Blind, enquiring when he can visit the Bell Bank Club which I 'run' for blind and partially sighted persons in Hay on Wye. This jogged my memory. I am planning an awareness day on Thursday 17th October. This prompted me to phone another interested person who will demonstrate Pulsedata on this day.
A neighbour called, and left some 'jumble' which will be collected and sold on 12th October in aid of the Keith Leighton Trust Fund.
At 4pm made a cup of tea to drink with a ham sandwich and macaroon cake. A friend called at 5.30pm to go to our first computer class, which I found most interesting, but not confident to write this diary on computer.
Home at 9.15pm, made a cup of Ovaltine, went to bed and read for an hour before putting the light out.
---