John Owen Jenkins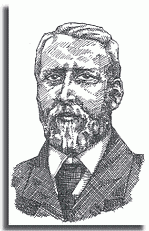 Because of a concern felt by Quakers for the education of older children, a school was opened at Pales Meeting House, Llandegley in 1867. The first schoolmaster, William Knowles came from Bentham, Yorks. and John Owen Jenkins enrolled as a pupil when he was eleven years old.
William Knowles resigned in 1874 and the school remained closed for two years. The new schoolmaster was Yardley Warner, an American Quaker Evangelist who came to Britain to raise funds to educate freed Negro slaves and was persuaded by Henry S. Newman of Leominster to accept the post of schoolmaster. Although Yardley was an excellent teacher, he was also a committed evangelist and began to hold Revival Tent Meetings on Penybont Common. John was drawn to these Revival Meetings and joined the Religious Society of Friends (Quakers) in 1879. The following year, Yardley Warner resigned and returned to America with his family.
The Quaker Home Mission Committee decided to continue the evangelical work begun by Yardley, they appointed several missioners and during the next ten years, they lived in the cottage attached to Pales Meeting House, built for the schoolmaster. One of the missioners was Ann Warner, widow of Yardley, who had returned from America with her three young sons. Ann, a former nurse, worked among the poor and sick, but as her health deteriorated in this harsh climate, she sought work in a more congenial environment and took a similar post in Somerset. The last missioner to live here was B.J.Elsmere. He arrived in 1889, but the following year, he informed the committee that his family were unhappy at Pales and gave notice that they would move.
B.J.Elsmere and his family found accommodation in Llandrindod Wells in 1891 and he began his Bible Class in the lower assembly room in the market hall, High Street. The Home Missioner Committee, unable to finance another paid missioner for Pales, asked John Owen Jenkins who was a local farmer, to accept responsibility for the Sunday School. He became Clerk of Pales Meeting and a Recorded Minister, but as more people began to attend the Sunday School additional accommodation was required and he hired the Iron Room in Penybont. Later, that same year, he gave land to build Greenfield Quaker Chapel.
Every Sunday morning, at Llwynmelyn, Crossgates, John mounted his horse and rode to Pales for Sunday School Adult Class and this was followed by a meeting for worship. He returned home for lunch and in the afternoon, rode six miles to a farm to conducted a cottage meeting. He came for tea and in the evening, conducted a programmed meeting in the Iron Room, Penybont, all these meetings and weekday activities were well attended.
When Thomas Williams of Gwemaltcwm, Aberedw, suggested meetings at his home, John Owen Jenkins readily agreed to lead them m worship. He rode across the bleak hills, often in harsh weather, but John felt rewarded by the welcome he received and the knowledge that this was work for the Lord. Before each meeting began, religious texts were put upon the walls in anticipation of the worshippers, they would be seated on raised planks in the parlour.
In addition to these commitments, John also encouraged Quakers in Herefordshire to revive the meeting at Almeley Wooton and build a chapel in the village of Woonton. The following year, he joined other Quakers in promoting evangelical missions in several towns in south Wales. His faith was evident in every aspect of his life; as a Justice of the Peace, councillor of his parish and county chairman of school managers, he served on the Court of Governors for the University of Wales and was President of the Radnorshire Agricultural Show. John Owen Jenkins retained his strong commitment to temperance work and peace issues, he served on several Quaker committees and remained a faithful worker at Pales and Greenfield Chapel until the end of his life.
Trevor Macpherson
---