SALIM BAPTIST CHURCH, near LLANGAMARCH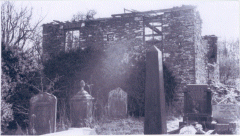 The ruins of this Chapel, together with its graveyard, are some 2.5 km north-west of the village of Llangamarch at map reference SN 917492. The building dates from 1845, but people of the Baptist persuasion most probably met in private houses well before this date and were likely members of Pantycelyn Baptist Church some 5 km to the north-west. The name is based on "And John was baptising in Aenon near Salim" (John 3:23). Later the more common Salem was used. The Chapel closed in 1948. By 1891 the church had grown to 54 members, 24 scholars (children) and 3 Sunday School teachers, this year being a peak in the membership throughout its existence of just over 100 years. The Church was described as a Particular Baptist indicating a closed-Communion church with full membership confined to those who had been baptised by total immersion. There was no inside baptistry at this Chapel and the practice was most probably carried out in one of the many natural pools in Nant Einon, a few hundred yards from the chapel.
In 1880 the Church built a Manse (minister's house) across the road from the Chapel, but this was never used as such because at this and subsequent times it shared a minister with Seion (Zion) Baptist Church, Llanwrtyd, during 1891 being the Rev. James W. Humphreys. It is likely that he would have come by horse and stabled it in a small building in the corner of the Chapel graveyard. From the 1891 census we see that the 'Manse' called Salim Cottage was occupied by Rachel Williams, aged 53, a widow; her daughter Rachel, aged 13, a scholar; and Jane Jenkins, aged 29, a servant.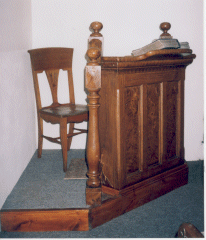 During 1891, three burials took place in Salim graveyard: Margaret Williams (46) of Cefnbrith, David Williams (23) of Salim Cottage, and Edward Jenkins (40). The last is interesting. He was the son of Charles Jenkins of Llawesheli and one of a family who were strong supporters of this Church for most of its existence. Although he died in London, as indicated in the memorial inscription, it is likely that his body was transported to Salim to be buried with his wife Mary who died in 1887. This would have been possible because by this time the railway had reached Llangamarch.
Although no church records have survived, e.g. minute books, lists of members, accounts, the activities would have consisted of the following. Sunday services morning and evening with Sunday School for children and adults in the afternoon. During the week, evening prayer meetings would be held. Other activities would have been singing festivals and probably an annual Eisteddfod.
From the names of the places found on the memorials in the graveyard, one sees that this Chapel was an important centre for the social and religious life of 12 family groups spread over 20 different settlements, spread over an area lying with a 4 km radius of the Chapel.
R F Peter Powell
March 2002
Acknowledgements
The author is indebted to the following, without whose help this article would not have been possible: Mr John Davies, Llanwrtyd, for important leads and suggestions; Mr Edgar Thomas, Llangamarch for the loan of Llangammarch Wells Notables: Family of "Shinkyns". Interesting Reminiscences 1917 by Charles Jenkins of Merthyr Vale; Mrs Ruth Bidgood for the photograph of Salim; the Builth Wells & District Heritage Society for the survey of Salim graveyard; and the Baptist Union of Wales for access to its records.
---