The two types of bicycle available in 1891 were the Ordinary bicycle and the 'safety' bicycle. The Ordinary is better known by its popular name - the pennyfarthing. The large wheel would have given the rider some protection from the ruts and grooves of rural roads in Powys, although it must still have been very difficult to cycle off the major routes.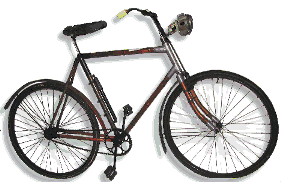 Cycle with bamboo & metal frame, c1895
National Cycle Museum, Llandrindod Wells
The 'safety' bicycle was similar to today's bicycles only they had hard, solid, rubber tyres. The frames were generally metal, although rarely bamboo was used. In this particular bicycle, some parts of the frame are metal simulating bamboo while other parts are bamboo.


'Swift' safety bicycle, 1888
National Cycle Museum, Llandrindod Wells
A major revolution took place in 1888 when the pneumatic tyre was patented by Dunlop. Fitted to a safety bicycle, this faster, more comfortable tyre led to the growth of cycling as a means of transport and recreation. The same technology was further developed for automobile tyres.