Culture, Leisure and Entertainment
Births, Marriages, wedding anniversaries and divorces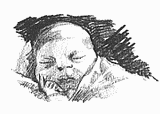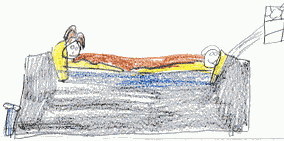 Falling asleep on the settee with mum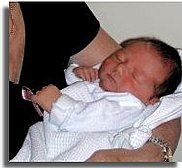 New born baby
A couple of diarists were awaiting the birth of new babies:
And for one young child:
When I got home there was a messages on the phone so I rang my dad. I asked him what was the problem. He said __ had a baby boy . So I went on Wednesday to see him. I held him. He was soft. Then I went home. I fell asleep on the settee . . . my mum slept with me.
Another has become a Great Aunt:
Canodd cloch y ffôn am 7.05 y bore. Pan atebodd y gwr, clywson ni lais cynhyrfus ein merch yn cyhoeddi fod Leisa a Gwynfor wedi cael merch fach am 5.20 bore heddiw. Roedd yn pwyso 8 pwys a 6 owns. Ei henw yw Beca Fflur. Baban bach arbennig iawn gan mai hi yw'r gyntaf o genhedlaeth fy neiaint a'm nithoedd (Gwynfor yw fy nai). Felly dyma fy mrawd a'm chwaer yng nghyfraith yn daid a nain!
But another woman says:
Home to pick up my phone messages and watch the world go by via global satellite coverage on the box, with my TV dinner and a glass of Californian plonk. Why not! I am an empty-nester, a Baby-Boomer, able to grow old disgracefully and wear purple.
Some diarists were celebrating wedding anniversaries on or near September 24th, or preparing for weddings:
The Kestrel Inn, Cwmdu
Rhydescyn Cottage

9.30 Meeting over coming wedding; friend and I went to Church, discussed where floral arrangements, colours and where they are wanted.
11.30 All went to Rectory to sort plans for floral arrangements for reception.
2.30 Went to Kestrel Inn to do floral arrangements for wedding reception tomorrow.


Woke to sunshine pouring through our riverside cottage window, welcoming us to our 51st wedding anniversary! A beautiful day! . . .
. . . Back home for an excellent lunch of fresh salmon with vegetables from the garden followed by damsons from our own trees. We toasted each other with damson wine, vintage 2001! Glorious hot sunny day, all day, we are so 'lucky' to live in such a beautiful area.

I also managed to unearth a picture frame for the card Ted and I had received from Her Majesty the Queen on September 5th, for your Diamond wedding anniversary. Wow, 60 years! The card had been delivered before 9.30, and on the envelope was the message 'This must be delivered before 9.30 on the day, and the Post Office must ring the Private Office in Buckingham Palace to say it is on its way.' Made us feel quite important, for the post was delivered to the whole neighbourhood early, instead of around noon, as usual.



It is our 4th wedding anniversary so we exchanged cards and talked about our day so far. We went out for our anniversary meal later that evening.

This date is a memorable one for me and my husband as it is our 42nd wedding anniversary. As other years my husband attended a sheep sale at Tregarron and I was left to my own decisions . . . the evening passed very pleasantly over a leisurely meal with two special friends. He was best man for my husband. She was bridesmaid for me. We ate salmon with a tasty sauce, sliced carrots, broccoli and cauliflower plus potatoes in their skins. Went to sleep listening to the radio. What a splendid life.
One girl, however, sees marriage from a different perspective:
In my house there is me, my sister and my dad. My brothers live with my mum and her partner. My mum has been divorced twice. I think that when people make that commitment to get married they should stick with it. My parents have been apart for 5 ½ years. I have one sister, 2 brothers and a half brother.
---