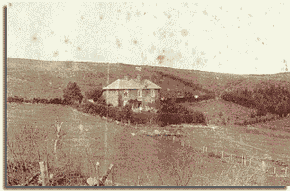 Pantpurlais Farm
Powys County Archives
It was quite common to give tips to the sexton after the funeral. This was known as 'shovel money' and persisted in the custom of paying a gravedigger more than his due fee. Afterwards there would be food and drink supplied, again reflecting the status of the deceased.
The Davies family lived at Pantpurlais, a farmhouse just outside Llandrindod Wells in Radnorshire. They had occupied the house for some years, since at least the 1850s, and had forged a living from the often inhospitable surroundings.
The parents of the family were Ezekiel and Elizabeth Davies and they had 8 children altogether: Elizabeth, b1846; Fortune, b1848; John, b1850; William, b1852; Sarah, b1854; Anne, b1858; Martha, b1861; and Thomas, b1870.