Culture, Leisure and Entertainment
The Commonwealth Games Diary of Jo Weale
Jo Weale is a Powys resident who represented Wales in the 2002 Commonwealth Games.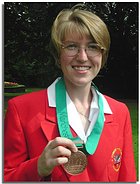 Joanne Weale
Thursday July 18th 2002
Set-off at midday and although the journey to Manchester was not that long, it gave me plenty of time to gather my thoughts, reflect on the practice games and advice we had been given over the past few months and ponder what the days ahead would bring. I travelled to Manchester with my team-mates from Mid Wales and we arrived at the Accreditation Centre at around 3pm. One of the first things that hit me straight away was the tight security. Sniffer dogs instantly searched our luggage and we all had to be scanned individually. The centre was buzzing with activity and after passing the security checks we were taken by bus to the athletes village which took around 10 minutes.
All the Welsh team will be staying in the same block. We have the Malaysian team as our neighbours in the next block. I am sharing with my pair's partner, Anwen. Our room is on the third floor so we should be quite fit by the end of the championships! We have bunk beds, a wash-hand basin, wardrobe and desk. Like all the other athletes we have our own duvet with the Manchester logo on which we have been told we will be able to keep afterwards.
Anwen met the rest of the Welsh squad in Cardiff. They travelled up by coach, and arrived at around 6pm. After we unpacked and put up all the good luck cards we had received, we went exploring in the village. It is huge. There is a games room, several shops, including Boots, florists, a souvenir shop, dry cleaners, launderette, hairdressers, newsagent and even an entertainment tent. There is also a massive food hall which can seat 2,000 competitors an hour. Everything you can possibly think of is available to eat.
Friday July 19th
Had breakfast at 8am. Spent the morning finding our bearings around the village, before going to Heaton Park (the bowls complex) for a practice session at 4pm. The bus took 45 minutes to travel seven miles -I travel 26 miles in 30 minutes from Presteigne to Llandrindod every day! Anwen and I played Will Thomas and Steve Rees, but unfortunately the match was abandoned when it started to rain. The heavens opened and we found out that when it rains in Manchester it certainly knows how to rain! Gave a radio interview with Robert which was quite interesting. Wonder how we will sound
on air?
Saturday July 20th
Had a practice session at 12 noon. Returned to village about 5pm and went straight to the food hall for dinner. Afterwards the boys challenged us to a game of table football. The games room, which has table football, Jenga, air hockey, pool and various other games, was packed with competitors from all
different countries. There is also an area with Internet facilities and a guest room with televisions.
Sunday July 21st
Our practice session today was at 10am and for a change we played triples. Betty Morgan joined Anwen and I and we played Steve (Rees), Rob (Weale) and Will (Thomas). We beat them by six. They were not happy bowlers and want revenge tomorrow!
Monday July 22nd
The men got their revenge today! After our morning practice session we attended a welcome ceremony with the rest of the Welsh team. We are still waiting for all our uniform to arrive, so we wore our tracksuits (the only clothes we have been issued with so far). We are not allowed to wear our own clothes apart from training tops, which we took with us. The Welsh Flag was raised, the Mayor welcomed us and children from one of the local schools sang the Manchester theme tune, 'Mancounian Way'. It was lovely. After all the formalities we enjoyed meeting and chatting to the children.
Tuesday July 23rd
Practised today at 12 noon.
Wednesday July 24th
Had a brush with royalty today! Saw Her Majesty The Queen whilst she was visiting Manchester. It was quite a surprise. We went into the city for a look around the shops and The Queen was attending a service at the Cathedral. The city was full of excitement and there were crowds of people and police lining the streets. When we asked what was going on and were told we decided to wait and watch too. Cannot believe how lucky we were -The Queen was literally five yards away from us with the Duke of Edinburgh at her side. We also caught a glimpse of the runners carrying the baton on its way to the
stadium.
Our uniform arrived today so we are all very relieved. We now have a blazer, blouse, skirt, eight polo tops, a fleece and a waterproof top. Fortunately it all fits perfectly.
Thursday July 25th
Today was the official opening of the Commonwealth Games. We had a day off from practising and left the village for the opening ceremony at 6pm. All along the way to the stadium crowds of people lined the streets waving and clapping as the convoy of coaches carrying all the competitors passed by. The atmosphere was starting to build. When we arrived at the stadium, security was again high. We assembled with the other teams in a huge hall where we had to wait for about two hours before parading into the stadium. We could hear the entertainment, the roar of the crowd inside and also the Red Arrows flying over. Marching into the stadium was absolutely fantastic; the atmosphere was electric what with the music and the chanting and cheering from both spectators and athletes. To see the other teams in their national dress was quite a spectacular sight too. The evening was one of the best times of my life. I felt so proud and privileged to be representing my country that I really cannot begin to describe how good it felt. We congregated in the centre of the stadium and joined in the celebrations. It really was absolutely brilliant and something I will never forget being part of.
Arrived 'home' at around 1 am.
Friday July 26th
The competitions began today, but we don't play until tomorrow. I spent time with my family and watched Ann (Sutherland), Pam (John), Nina (Shipperlee) and Gill (Miles) play in the rinks. They got off to a good start winning both their games.
Saturday July 27th
The day actually arrived which Anwen and I have been preparing for. We played Fiji at 4pm. We were both anxious, but the music in the park which played before we got on the green helped calm our nerves. When we started to play hearing support from family, friends and team-mates I think boosted our confidence and eased us into the match. The rink was very difficult, but we played well and won by nine shots -a good start.
Sunday July 28th
Day off today. Went to Heaton Park to support Ann, Pam, Nina and Gill who played three games. They won two, but lost to Fiji. They are now through to the quarter-finals which will be played tomorrow.
Monday July 29th
My 27th birthday. Had a lovely day. Had cards from my team mates and lots of people have wished me a happy birthday. Met a second member of the Royal family today! Sophie, the Countess of Wessex visited Heaton Park. She shook my hand whilst I was talking to our team manageress, Linda Parker. She asked how we were getting on and seemed pleased when I told her about our progress. Beat Papua New Guinea by 10 shots today. Tomorrow is a crunch match. We need to beat Guernsey to guarantee us a place in the quarter-finals.
Tuesday July 30th
Only three ends into the game with Guernsey the heavens opened, flooding the greens and forcing play to be abandoned. We had got off to a great start picking up a five on the first end, but then we dropped a three, before we were taken off. The match will resume at 9 am tomorrow.
Wednesday July 31st
Our alarm clock went off at 6 and we caught the bus at 7.15. It was pouring with rain and I really didn't think that we would be playing at 9, but we still had to go. Play was abandoned until 10. The game was very close but we managed to win by seven shots. Yesterday's rain meant we had to play twice today. We played our second game against Northern Ireland at 4pm. The match was televised. Having TV cameras right next to us seemed quite strange! Although both teams are now through to the quarter-finals the pressure was off us a little bit, but knowing we were being televised I think added tension to match. We drew with NI 13-all. Anwen played a superb shot to draw the game. We are on both definitely on a high tonight. We are over the moon to have reached the quarter-finals. We are both determined to do well in the final stages for not only our ourselves, but also our club, county and country.
Thursday August 1st
Our quarter-final against Jersey was at 9am. We were up again at 6 and caught the bus at 7.15. Once again we got off to a good start. We picked up a five, but then promptly dropped a three. We were both playing well and were 23-4 up at 10 ends. We knew for the remaining five ends we needed to keep the heads tight which we did. Jersey scored six to our four over the last quarter, but still won convincingly 27-10. We are now certain of a medal and we are both extremely relieved. Also gave a television interview today.
Friday August 2nd
It rained again and play in the singles competition was abandoned until 4pm.
Saturday August 3rd
Semi-Final against New Zealand. We lost 21-11. The New Zealanders were in excellent form and played with accurate line and length throughout the 15 ends. Unfortunately we got off to a bad start and played catch up all the way. But, we are just pleased to have won a bronze medal. In the afternoon we watched Rob play South Africa in the singles. He lost 21-17, but has won a bronze medal too.
Sunday August 4th
I will never forget Sunday, August 4th 2002. We have been presented with our medals and flowers. We watched the pairs and singles finals before the ceremony, which was at 4 pm. Standing on the rostrum was a dream come true. Anwen and I both found it very emotional especially when the Anthem was played and the Welsh flag was raised. I must admit it really was hard to hold back the tears. We are both very proud and delighted that our families were there to share in our success with us.
In our event New Zealand won gold, South Africa silver and Wales and England bronze. After being presented with our medals we went straight to the closing ceremony at the main stadium. Again it was a truly memorable occasion. Unfortunately it rained, but this was something we had become quite used! It poured all evening, but the weather didn't dampen the spirits of the competitors who like us all revelled in the party like festivities. The music was great and we had a brilliant time. We even ended up dancing in the middle of the stadium when Will Young was singing! When we got back to the village the party continued into the early hours.
Monday August 5th
Returned home today very tired, but very very proud of winning a bronze medal.
Jo Weale
---