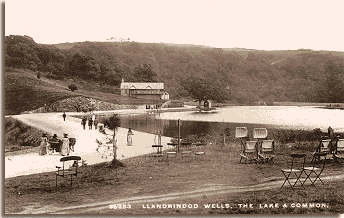 The Lake and Common, Llandrindod Wells
Radnorshire Museum

Culture and Entertainment
The Lake, Llandrindod Wells
Thomas's Guide of 1891 says of the Lake:
". . . what better exercise than rowing, and this is a very popular form of amusement at Llandrindod Wells. The Lessee of the Lake has on it a fleet of about 30 boats, inrigged and outrigged skiffs, dingies, and canoes, beside small yachts and sailing boats, so that anyone fond of aquatic exercise can here find ample choice of boats, and what is of considerable consequence to those not much accustomed to their management, a very safe piece of water upon which to display their growing skill. During the hot days of August there is no more popular lounge than around the lake watching the lively scene from the rising ground up to the foot of the wood. Once a year a regatta is held here, which always secures a large attendance."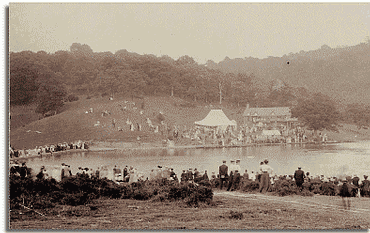 An event at the Lake, Llandrindod Wells,
by Roberts, Llandrindod
Radnorshire Museum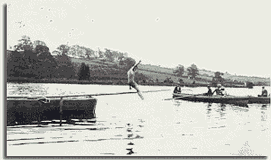 Jumping into the Lake
Radnorshire Museum



However, some holidaymakers managed a more effective way of cooling off in the lake:
Refreshments were available for the large numbers of people who congregated there. The photograph below shows the Cairn refreshment rooms which were adjacent to the lake.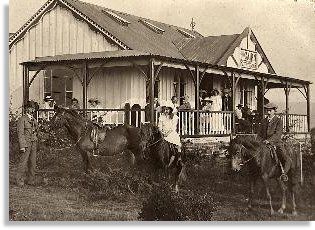 Cairn Refreshment Rooms, Llandrindod Wells
Radnorshire Museum
---