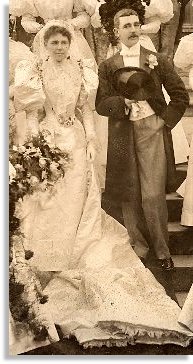 For men, top hats were essential, as were morning coats with a special buttonhole in the lapel for a flower. The fashion for wearing gloves came and went. The bride's father and the ushers would dress similarly.
Bridesmaids frequently wore new fashions, often in other colours so as not to distract from the bride's gown.
However, marriages did not always follow the fashions. The following is a description of a wedding in Brecon in 1891, taken from the Brecon and Radnor Express:
"On Tuesday morning last the Plough Congregational chapel in Brecon was the scene of a very pretty wedding. The parties between whom the nuptial knot was tied being Mr W P James, son of Mr J James of Brynawel, Brecon and Miss Eleanor Mary Williams, Viaduct House, Brecon. Both the young people being very much respected and beloved in the town, a great amount of interest was taken in the happy event, and although the hour at which the ceremony was performed was somewhat early, a goodly number of friends and well-wishers assembled in the chapel. The bride, who was accompanied by her father, looked exceedingly well in her handsome dress of grey corded silk with hat to match. She also wore a beautiful enamelled brooch, the gift of the bridegroom, and carried a bouquet of bridal flowers (the gift of the best man Mr T D James). The bridesmaids - Miss Aurelia Williams and Miss Lizzie A Williams - were very prettily attired in blue (green shaded) bengaline, trimmed with old gold satin, with hats to match . . . the newly wedded couple and the wedding party left the chapel under a heavy downpour of rice, and drove to Viaduct House where the wedding breakfast was partaken of. . ."