Culture, Leisure and Entertainment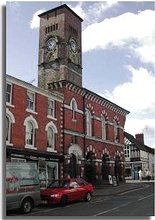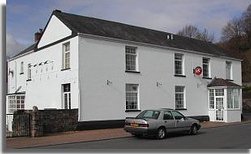 The Ynyscedwyn Arms, Ystradgynlais

Performances
Many diarists were putting on performances, or going out to see others perform.
Off to sing with Whitton voices tonight. Whitton voices is a community choir that meets at the Assembly rooms in Presteigne (we used to meet in Whitton until last year - the Foot and Mouth crisis meant that we could not use the hall in Whitton). We sing songs from around the world. Tonight - African, Argentinian and American gospel. It's my favourite evening of the week. Singing helps me wind down and relax. It's a long drive (14 miles) but it's worth it. There are members who drive equally long distances.

Left at 6.45pm to attend meeting of Gyrlais Male Voice Choir Committee at the Ynyscedwyn Arms Hotel in Ystradgynlais. Decisions made on visit by choir to sing in the Royal Albert Hall in London, for the Centenary Festival of Male Voice Choirs on 26th October.
At about quarter past 8 we went to Dolau School for choir practise. We belong to the Dolau Mixtures, a mixed choir which meets after the bell ringers have finished their practice at Llanfihangel Rhydithon Church.
Several of our members are bell ringers. Our J conductor is from Presteigne, a brilliant musician. We have 3 concerts coming up in the near future, at Kinnerton Church, Heyope Church & Lingen Village Hall. Not a very good practise, hopefully the concerts will be better. My friend is a tenor, but used to accompany the Vale of Arrow, at Kington for 20 years from the age of 18. I am top soprano and an organist at old Radnor Church.
Took the opportunity whilst Bill was out to practice my alto part -our choir, Cantorion is singing in Llanwrtyd Wells Eisteddfod on Saturday.

Attended to post, and in my role as Treasurer for the National Eisteddfod 2003 Llanidloes and District Local Appeal Committee, I processed £ 17 of draw tickets and money given to me yesterday. The Committee has arranged a Grand Draw with the first prize of a weekend for two donated by Celtic Travel. The draw is on 12th October, and we hope to raise £900 . . .

We then had a couple of phone calls, the first from a member of the Eisteddfod Choir to apologise that he would not be able to make Friday's rehearsal, we normally travel together to the rehearsal in the Welsh Chapel at Welshpool. And another apology, a member of the local Eisteddfod Committee, can't help us out in selling tickets for the grand draw outside Kwik Save next Saturday . . .

In my capacity as Treasurer of the Montgomery County Festival Choir, rang Welsh Amateur Music Federation in Cardiff to ascertain if our grant cheque was on its way.

Llanfihangel Rhydithon Church

The Welsh Chapel, Welshpool

Allan am 6.30 pm i'r dosbarth Cadw'n Heini ac oddi yno i gyfieithu ar y pryd mewn cyfarfod tair awr o Bwyllgor Celf a Chrefft yr Eisteddfod Genedlaethol. Wedi blino a llawer heb ei orffen.

Cael sgwrs ar y stryd efo M__ G__ a dweud fy mod wedi'i gweld ar y teledu nos Sul yn canu efo Côr Eisteddfod Meifod ar 'Dechrau Canu, Dechrau Canmol' - ni'n dwy yn mwynhau ymarfer bob nos Wener yn Capel Cymraeg Trallwm dan arweiniad ardderchog Gwyn L Williams.

Booked Hyssington Village Hall for November 2nd when the "Pickled Walnuts" will be performing "Merrie England" also in aid of Church restoration.


8am Made phone call to daughter's friend to check waist measurement for a skirt I'm making today. She and the friend are sharing the skirt for a Shakespeare play they are performing next week with their High School for their drama GCSE course.

Received a phone call from the Arts Centre in Aberystwyth regarding tickets for the Shakespeare School Drama Festival taking place at Theatr y Werin (my daughter is playing Juliet in "Romeo and Juliet").

12.0 Drove back into town to attend Weight Watchers slimming club. Had lost 3lbs since last weigh-in a fortnight ago. Want to lose weight to look 'tidy and trim' for forthcoming theatrical performances with the Newtown Musical Theatre Company ("Salad Days" in October, and "Kiss me Kate" in March, in which I have the lead).

Tuesday is practice night for the Morris side at Bishops Castle and by eight I am dancing with Martha Rhoden's Tuppeny Dish which is the best possible way to unwind.

I book 5 tickets to go and see a ska-punk band called [SPONGE] in Cardiff in a few months time. It costs £52.70 - me and my friends are going, and one of their mums is driving us in her camper van. I get the number off the Internet and buy them with mum's credit card, paying her back with the cash my friends have given me.


Spent 15 minutes sitting in the sunshine catching up on my second reading of Lord of the Rings so I am ready for the Two Towers film when it comes out in December. I am looking forward to seeing it in London as my birthday treat.


Evening I rode my Honda 90 moped to Builth to work as an unpaid volunteer behind the bar at the Wyeside Arts Centre. In return I saw for free the film being shown, The Guru.



In the evening my husband and I made a poster to advertise an 8mm film show (films taken in the 1960s and 1970s) of Hay and District, which will be put on at Hay Parish Hall 15th October 2002. Money raised to go to St Mary's Church, Hay.

After school rehearsal of 'A Midsummer Night's Dream' for the school's Shakepearre festival went well, though not everyone has learnt their lines, two were missing and we are behind schedule!



---