Culture, Leisure and Entertainment
A day in the life of a holidaymaker in Spain
This diary was submitted by a lady from Talgarth in Breconshire.
The mist is thick over the valley today and it seems uncertain if the sun will finally manage to peer through the clouds. I dare say we shall have sunshine later in the day and that will be fortunate as there is a plan to go down into Cordoba and see the castle or Alcazar as it is called here.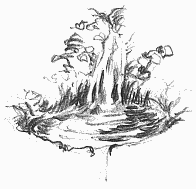 The day starts slowly and how much one appreciates Spanish hours and the welcome chance to read a book - something never to be indulged in at home. I am making an effort to read in French while staying here as all the family slip so easily from Spanish to French to English and one's painful efforts are really rather feeble. French is such a lovely language, particularly for conversation and I catch myself half murmuring the words for pleasure. But there is work to do as well and I have to help my hostess to place and arrange books and furniture she has inherited from her step-mother who died recently. Looking at some of the books we agree they are just the sort of thing grew up with and read years ago-and probably never thought of since. Luckily she has enough space here to keep things without the pressure to thin out the clutter. But I sometimes wonder who in the family will be prepared to take on the mantle of responsibility of care and the ability to cope with all the detail of history. I know I was not very interested in family affairs and it is only with the passing of time that one becomes engaged with the recent past and all the tangled web of relations.
Time for lunch by the pool and a quick refreshing dip as the water trickles in from a mountain spring and never has the chance to heat up. Everyone else goes for a siesta but the sun is out and I am determined to catch as much of it as I can before our wet winters at home so out comes the book and the drawing pad and I can potter and laze. I haven't done much drawing on this visit-partly because one tends to feel a bit selfish and self absorbed when there are other things to be done. I make a resolution to go away alone on a special drawing holiday when I can really concentrate. This is a holiday for switching off and not even thinking about how much work is piling up at home.
We go down to the town and have a tour of the castle. Although built by the Christian Kings, Ferdinand and Isabella, it seems very Moorish in style with wonderful pointed battlements, courtyards and water gardens. Inside there is a very fine Roman sarcophagus, protected from sticky fingers by perspex. And a whole series of huge mosaic pavements recently discovered when one of the town squares was restored. It seems that the Town Council are acutely aware of tourist potential and are busy doing everything they can to encourage visitors.
As it is still far too early to eat by Spanish standards, we have tea and realise most tourists are speaking French. Eventually the sun goes down and pottering down a side street find a fine restaurant. It seems the custom here to give everyone a generous measure of sherry on the house before they have even ordered. The sherry is much lighter than the fortified brew we have at home and it slips down very easily with tapas. I am sure one could exist solely on tapas. Indeed some people say here that one
eats eight times a day!
Home and a beautiful moon but sadly so much more building all over the plain than when I first came here. And my first memories of Cordoba were of seeing the town in a horse and carriage.
---