Culture, Leisure and Entertainment
Holidays in the UK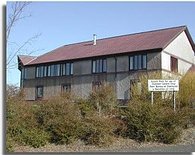 Staylittle Activity Centre, near Llanidloes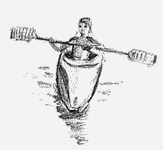 Some diarists were on holiday in the United Kingdom on September 24th 2002, one 9 year old boy being at an activity centre with his school.
I am at Staylittle Activity Centre with my school. I got up at 7.30. For breakfast I had rice pops with toast and margarine. After that we made our own packed lunch of smoky bacon crisps, 2 ham and cucumber sandwiches and 2 penguin bars. I had orange squash to drink. In the morning we had to wear our swimming trunks, tee shirt, wetsuit, kag, hard hat and a buoyancy aid to go kayaking. We played kayak tag and water polo. Then we had lunch and went back to the Centre. We did problem solving. The whole group of 10 had to solve the problem together as a team. One of the problems was to make a rectangle out of many different pieces. Then we did archery. First we practised. Afterwards we had a competition to see who would score the most points. The two teams were Robin Hood and William Tell. After archery we had tea - chicken pie and cake. After tea we did Centre's ground orienteering. We had to follow a map and find markers. Then we went to the activity room where they had a pool table and a table tennis table. Before bed we had cake (leftovers) or nut biscuits. We went to bed at 9 and we were all asleep by 11.30.



Today was the first full day of our holiday, after spending the previous day travelling from Llandrindod Wells to Borth, Ceredigion, in our new (four day old!) car -a Toyota Yaris. After a cold, almost frosty, night we were promised a fine day (as it certainly proved to be) so we decided to walk to the Dyfi National Nature Reserve at Ynyslas-a circular walk of about 9 miles. We walked along the road to Ynyslas, where we sat near the sand dunes & enjoyed the view of Aberdovey across the estuary, at the same time enjoying our lunch of smoked sausage, a packet of crisps & some home grown cherry tomatoes. We progressed along the beach to the other side of the sand dunes, where we could clearly see, across Cardigan Bay, the coast of the Lleyn Peninsular & Bardsey Island. Returning via the beach, as it was such a glorious day, we decided to paddle our way home. We happened upon many fairly large jellyfish, left stranded by the ebbing tide, & we picked our way around the remains of the Prehistoric Forest, which is gradually being engulfed by the sea & sand. Forty years ago when I used to come to Borth as a young girl, these tree trunks were 18 inches to 2 feet high, but none now exceed 7 or 8 inches in height. Whilst paddling, we also saw a man, travelling at a fair speed on a sand- yacht, powered by a kite! After a lovely walk, we returned to our luxurious caravan, where our dinner had been cooking all day in an (electric!) slow cooker. This was preceded by a glass of sparkling wine with which we toasted the wonderful sunset.



Surprisingly this census date falls on my annual leave week - so exceptionally a very different day. Woke around 6.30 am to take three dogs round a misty lake; herons, moorhens, ducks. Barking dog from distant farm. After breakfast to Ullswater, Glenridding and a "mildly strenuous" walk up to Place Fell, and across to Sandsend, then across the Ullswater lake shore. An early start, but already others are about - the grey haired able-bodied retireds mainly! It's 10 years since I did this walk and realise how unfit I have become, and that 3 young Tibetan Terrier dogs do not provide the same pulling power as 3 mature Cocker spaniels, one of whom was blind. A 5 hour walk stretched well into 6 ½ hours, but with clear skies, views across to Helvellyn with Swirrel and Striding Edges etched against the sky, warm sunshine it really didn't matter. But oh the aching legs. Late afternoon tea in Patterdale then back to a 1 up 1 down "fisherman's cottage" by a lake in the Eden valley. The one part of England and Wales less populated than Powys. Yesterday was Bamburgh beach and Berwick on Tweed, tomorrow the otter sanctuary in the North Pennines. Back to work next week!





My last day on Tresco . . . After breakfast William went to the farm shop and I went too. We bought sweetcorn, peppers and lots of other things. We worked out it all cost £2.18, then we went back to The Moorings where we were staying. We packed our bags then went for a last walk around Tresco before we went. Five minutes later we went on the tractor to the heliport. We checked in , then went to sit down in the waiting room. The safety video did not work so we didn't watch it. The helicopter came and we boarded it. In 20 minutes we were at Penzance. We got off the helicopter. We collected our luggage and got on the minibus that took us to the station. We got on the bus and the train went. When the ticket man came he said we had the wrong ticket. He said he would come and sort it out afterwards. When we got to Liskeard we got off. We called my Auntie and she came and picked us up. That night we had fish and chips but I did not eat it up because I was too tired.
---
The diary of a holiday in Northern Ireland can be seen
here
.