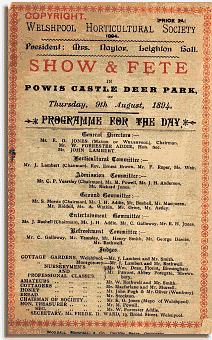 Welshpool Horticultural Society show programme
Powysland Museum and Montgomery Canal Centre
Culture & Entertainment
Welshpool Horticultural Society Show
Gardening was a popular pastime for Victorians and oftimes a necessity for the poor. Its popularity was reflected by the formation of horticultural societies. One of these was the Welshpool Horticultural Society which held a show and fete on 9th August 1894.
The Society's President was Georgiana Naylor of Leighton Hall (see table below).
Mrs Naylor's husband had been an important local figure, responsible for much of the building in Leighton and making many innovations on his estate.
1891 Census
Leighton Hall, Leighton
Name
Position in
household
Marital
status
Age
Occupation
Place of Birth
English/Welsh
speaker
Georgiana Naylor
Head
Widow
72
Living on own means
Shropshire Great Ness
English
Margaret Naylor
Daughter
S
42
Cheshire Liscard
English
Frances Naylor
Daughter
S
33
Lancashire Walton
English
Mary Anne Rippon
Servant
S
46
Domestic Servant Lady's Maid
Northamptonshire Geddington
English
Sarah Jane Lythgoe
Servant
S
21
Domestic Servant Lady's Maid
Cheshire Weaverham
English
Anne Needles
Servant
S
23
Domestic Servant House Maid
Cheshire Birkenhead
English
Martha Wainwright
Servant
S
21
Domestic Servant House Maid
Flintshire Overton
English
Margaret Jones
Servant
Widow
32
Domestic Servant Laundry Maid
Montgomeryshire Forden
English
Hester Susannah (Middleton?)
Servant
S
31
Domestic Servant Cook
Kent Sevenaoks
English
Jane Nunn
Servant
S
25
Domestic Servant Scullery Maid
Staffordshire
English
Mary Thomas
Servant
S
21
Domestic Servant Under Laundry Maid
Montgomeryshire Kerry
English
John Mold
Servant
S
25
Domestic Servant Groom
Shropshire Worthen
English
William Jones
Servant
S
25
Domestic Servant Footman
Denbighshire
Both
The Show had many entertainments apart from horticultural displays:





Powysland Museum and Montgomery Canal Centre


Programme of the show, including
Presentation of Prizes and Fireworks after dusk
Powysland Museum and Montgomery Canal Centre

Full details were given of the music to be played by the bands performing at the Show:


List of pieces to be played by the various bands
Powysland Museum and Montgomery Canal Centre


Bandstand at the Pump House Hotel, Llandrindod Wells
Radnorshire Museum
---