Education
A Day In The Life of a Deputy Head
I woke a little earlier than usual and a wicked thought sprang immediately to mind. Exactly 22 years ago my youngest child was keeping me awake by insisting on being born a week and several hours too early. Would it be too childish to phone him at 4.35 a.m. and wish him a happy birthday? Decided to forgo the sweetness of revenge in order to avert a possible international incident... After all, he does live in England. Instead, I rolled over and dozed for a few minutes until the insistent braying from the furthest of our fields could no longer be ignored. A rough interpretation of Meg's bawling was, "It's gone 5.30 a.m. Where the hell is my room service?"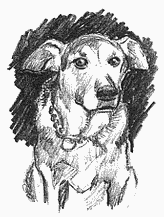 It hasn't dawned on her that summer is over and it's now too dark for breakfast at such an ungodly hour. Rushed out to feed her and Basil before she set every dog in the Parish off barking. Basil, the pony, was less than enthusiastic at being force fed so early. He tries very hard to show his disdain for the new feed on offer, well it is slightly embarrassing for an equine of advanced years to admit he enjoys a mix sold as Happy Hoof.
Having showered, breakfasted, walked the young dog, hobbled a few yards with the old dog and helped my husband feed and water the hens, the geese and the heifers, it was time to set off on the 23 mile ride to work. I say "ride" because my husband does the driving, which is wonderful as I can sit and daydream.
Arrived at school just before 8 and set the water heater going. This is obviously one of my key roles as deputy head, an army may march on its stomach, but a school staff floats on its coffee. Next, turned on the photocopier, the new god of primary schools. How did we copy worksheets before we were allowed access to these mighty, if cantankerous machines? Had a nasty moment when the grinding stopped and the lights flickered, but it righted itself and I gave thanks that I wouldn't have to tell colleagues that their labouring over hot computers last night had been in vain. Work sheets could be photocopied and education would continue at the Primary School as normal.
After 40 minutes of trying /failing to put up an English display and mark maths books simultaneously, I returned to the staff room for my share of the coffee and to exchange poultry talk with a colleague. As fellow egg sellers, she and I occasionally gain relief from the interminable child-centred discussions that dominate staff rooms, by discussing ways of educating hens. This short-lived diversion was interrupted when somebody opened the doors early and we had to dash for the classrooms.
The early business of the day, such as registration and reminding the class of which lesson was first, was carried out in Welsh. As usual, I found myself offering threefold prayer, that no child would ask me a question I didn't understand, that none of my colleagues who are fluent Welsh speakers would come in, hear me massacre the language and write to the National Assembly to ask for my deportation over the border, and that I will be sent on a Welsh course VERY SOON!
Nobody would have believed that I teach the more able Year 4 maths group during the first few minutes of the lesson today! I learnt that "finding the difference between two numbers" might mean the same as "sharing" or "knowing the multiplication tables." Also, I was informed that the word "digit" means "one of them numbers that comes after the dot in those thingy numbers that you use instead of fractions." You live and learn! Perhaps the parents are right when they tell me the summer holidays are too long they are certainly long enough for a great deal of forgetting to take place. The said maths group redeemed itself. After brief reminders from me and loud cries of "Oh yeah!" the children received mass maths enlightenment and worked well for the rest of the hour.
Being a teacher often involves carrying out a second career as a conjuror. At the end of the maths lesson I needed to be in the gym to deliver to Key Stage 2 assembly those of my class who had come back from their maths groups on time, be in the classroom to collect up children who were late back from maths groups and be in the hall to welcome children to my Key Stage 1 assembly .How did I do it? I can't remember, but mission accomplished none the less! The assembly went well, despite the fact that I felt I was stretching the theme of "new beginnings" by talking to the infants about caring for their new teeth.
As I headed towards the staff room for a second coffee, a flustered colleague begged a reprieve from playground duty, as she needed to meet with the speech therapist. No coffee, no whistle and no coat. Still, the kids were model playground users. They played happily, stood still when the I yelled that it was time to go in (no whistle), and lined up perfectly. It was only when the photographer who had come to record A Day in The Life Of the School stood next to me and someone in 5/6 J bellowed, " I told you the ESTYN people are back" that I realised that this playground excellence was not for my benefit.
The rest of the morning passed in a flurry of lost library books, a Welsh lesson and a little note making to aid the class in writing their own diaries later. Lunchtime also went by quickly, a broken window, two bumped heads, a cut finger and four phone calls preceded half a plate of lunch and three sips of orange juice.
The afternoon began with a science lesson on healthy eating which was a little cheeky on my part when I reflected on my own skimpy and less than nutritious repast! The usual misconceptions about "good" food arose with some insisting that chips are good food because they taste good and others stating that healthy eating requires a fruit and water only diet. When we got as far as J's Dad's opinion that getting drunk was a health giving occupation "so long as you only drink white wine" I felt it was time to give up on discussion and push on to some old fashioned chalk and talk! Playtime and a sanity restoring coffee couldn't come too soon!
The school day ended with a first run through of the Harvest Festival assembly the class will orchestrate on Thursday. It was a good attempt and we parted with smiles on our faces. I wonder what tomorrow will bring?
By the time my husband collected me at 5:30, I'd finished the much neglected display and marking from this morning and planned (or rather replanned) the work for tomorrow.
Supper was infinitely better and more satisfying than lunch. My husband is a great cook.
Now we've fed and watered the stock, walked the dogs and enjoyed a little T.V. viewing. In order to avoid souring a pleasant evening, we tried hard to ignore Bush's war-mongering and Blair's desire to play the obedient servant to his friend.
I called Jake to wish him a happy birthday and still refrained from reminding him of the first of the many sleepless nights he gave me. Instead I glanced at the fridge magnet that exhorts me to "get your own back, live long enough to be a problem to the kids. " Oh, I have every intention of doing so! I love living here so much that I intend to live a very, very long time and so does my husband.
Looking back, the day has been an average one and (look out my children) if they are all as good as this we might both just choose to live forever!

With fond memories of Toby, the old dog, who died three days after this diary entry was written.

---