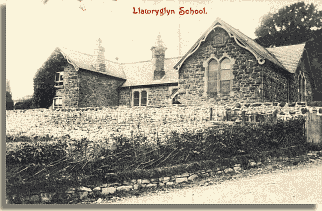 Llawr-y-Glyn School
Private collection
Education
Llawr-y-Glyn School
This Montgomeryshire primary school had a teaching staff of two: Mr John Roberts, a certificated teacher of the second class, and Margaret Evans, the sewing mistress. Margaret Evans had frequent absences during 1891 due to illness and eventually resigned in April of the following year.
Mr Roberts lived as a lodger in a house next to the school:
1891 Census
Smith Shop House
Name
Position in
household
Marital
status
Age
Occupation
Place of Birth
English/Welsh
speaker
John Rowlands
Head
M
38
Blacksmith
Llanidloes, Montgomeryshire
Both
Jane Rowlands
Wife
M
35
 
Llanidloes, Montgomeryshire
Both
Annie May Phillips
Niece
S
4
Scholar
Mountainash, Glamorgan
English
John Roberts
Boarder
S
25
Elementary School Master
Llanfyllin, Montgomeryshire
Both
Mr Roberts' entries in the school log book for 1891 were very brief, consisting mainly of comments about attendances, but on May 29th he noted:

Powys County Archives
"I was away on Monday and Tuesday with Mr Jones Esceirieth's consent. Consequently there was no school on these days."
The reason for his absence became clear on June 5th:

Powys County Archives

"The Master Mr J Roberts sent in his resignation to the Board today."
He was replaced on the re-opening of school on 14th September by Mr Percy Jones. One of Mr Jones' first tasks was to assimilate the School Inspector's report for the year, which gave the school mixed results under his predecessor: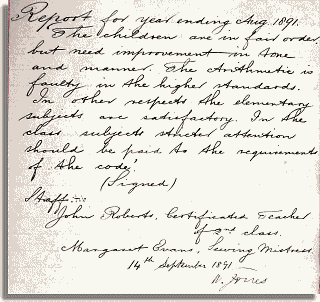 Powys County Archives
He also found himself dealing with the common problems of children being kept off school to help with harvests:
| | |
| --- | --- |
| Powys County Archives | "Oct 30th Attendance much smaller this week on account of the potatoes" |
and various problems with the school building:
| | |
| --- | --- |
| "Nov 5th No fires in school today, as the woman who lights the fires complains that she has no wood supplied her by the Board" | Powys County Archives |
And in December:
Powys County Archives

"Dec 10th In consequence of the heavy rains last night the school was flooded and no school was held today.

Dec 11th In consequence of the school being still wet and damp notwithstanding the large fires we have had since yesterday morning"
---