Education
Primary School diaries I
I woke up and felt really good. I was happy and wanted to start the day quickly. Two hours and a half later I hopped in the car with my sister and my mum. I had my clarinet and music folder in one hand and my school bag in the other. I read my tennis magazine in the car called Ace. I read in it the Top 40 most shocking moments in tennis. The number one was when someone's ex-boyfriend stabbed her with a 9 inch kitchen knife in the back.
Anyway, we were at school by now. I, as usual, got out of the car last. I slammed the door behind me and mum locked it. We walked down the path slowly and I lined up then walked into school. I went to take my lunch to the fridge. I then walked back and hung my bags up. I thought "Oh no, not another school day". I walked into class and pulled the chair off the table and sat on it. I felt miserable as I realised it wouldn't be a happy and exciting day, just a plain boring day. I just sat there all morning, listening and answering. You would have thought I was paying attention but really I wasn't, my mind was elsewhere, thinking of what the day would bring . . . lessons, lunch in at first sitting though not second. Then girl's football, games and more lessons.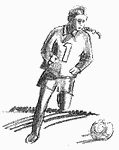 The day passed quite quickly and we had the Head Teacher teach us all day. The morning passed quickly and I was off to the top of the fridge. I sat at the head of the table and all my friends sat next to me. We ate as quickly as quickly we could because we didn't want to miss girl's football which was on in a couple of minutes. When we had finished me and my friends went to get all our football gear on, socks and football boots, t-shirt and shorts. We finally put our shin pads on and walked to the door, we ran around the playground and onto the field where we usually have football. But our teacher wasn't there. After a long wait at last she arrived, so we went onto the football pitch. We had a match and me and Bethany scored our great, one and only goal.
We walked back into school, it was still playtime so we had a drink. The bell went and we went fro games. In games we played cricket and their team won by millions. I got one person out. Now we were on to lessons and there's nothing good about that!
Now it was approaching half three and I couldn't wait till, "Yes!" I shouted in my head. It was home time. I ran down the corridor, grabbed my bags and whizzed outside to mum. Now I could play on the bikes, go on the computer and loads of other fun things.
We got home and I watched TV. Luckily my sisters went out to play babies. I had a drink and a biscuit and watched CBBC and Simpsons. Well, it had been a busy day and now I was in bed at long last, dreaming of what tomorrow would bring.

---