Education
Year 6 Diary IV
The children from a Year 6 class (10-11 year olds) at Trefonnen School were asked to fill in a diary of their day, draw a picture of their room at home and a map of their route to school, and to answer some questions about themselves. This is a girls's diary.
| | |
| --- | --- |
| 7.00am - 9.00am | I got up, got dressed. Went downstairs, got some breakfast. Went back upstairs and brushed my teeth. Went downstairs, brushed my hair. I got my bag and my shoes on and went to school. |
| 9.00am - 11.00am | I was sat at my table while the teacher did the register and after that we did English up until quarter to eleven and then we went out to play. We came back in at eleven o'clock. |
| 11.00am - 12.30pm | After break we came back in and we went on to the yard. We went back 5 minutes later. The bell rang for dinner and we went out on the field. |
| 12.30pm - 1.30pm | Mrs J__ came to the cloakroom door and Mrs C__ blew the whistle. Mrs B__'s base and our base lined up for dinner. We all went into the dinner hall. Me and my friend found a spare table to sit on and then J__ came and sat down. We all finished our dinner and went out to play hide and seek. |
| 1.30pm - 3.30pm | We came back in from dinner and our teacher did the register and we finished off our history. She said "Chairs up, trays up, you may go home." |
| 3.30pm - 6.00pm | After school I went home, got changed and went for a little bike ride with my friend. Ten minutes later we went to play in her garden. My mum called me in for my tea at 6.00pm. |
| 6.00pm - bedtime | I came back out after my tea and went on my bike to see if I could find my friend and I did. We went up to my house to see who was up there. We some others and asked them to play ball tag, so they did. My mum called me in at 8pm to go in, so I did. I got my pyjamas on. I stayed downstairs until 9.00pm then I went to bed. |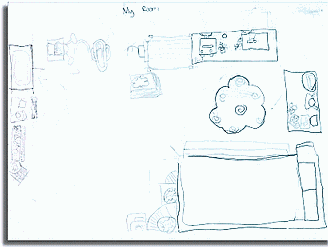 Have you travelled on a train? Where to?
I travelled on a train from Newport to Hereford.
Does your family own a car? Where do you go most often in it?
Yes, I do own a car. We usually go to Hereford.
Do you go anywhere by bus?
Yes, I go on a bus to the swimming pool.
Have you lived in Powys all your life? List the towns/villages (or even cities!) where you have lived.
I've lived in Powys all my life. I've lived in Howey and now I live in Llandrindod Wells.
Where are your parents and grandparents from?
My mum was born in Llandrindod Wells. My dad was born in Hereford. My Nan was born in Beulah, my grandad was born in Abergavenny.
Do you speak Welsh at home? Do you speak any language other than English at home?
I don't speak Welsh or any other language except English.
Where would you like to live when you grow up - and why?
I would like to stay where I live now because I want to stay where I was born and brought up.
What do you think you have achieved in the last year?
I think I've achieved to do a symmetrical breaststroke swim.
What do you most want to achieve in your life?
I want to achieve good grades in school because I want to study to be a vet.
What is the most memorable thing that has happened to you? (Give dates if you can).
It was about 1998. I was in the park talking to my friend. I started to swing myself. I was telling my friend about what J__ did at school that day when I lifted my hand off the bar to show her and I lost balance and fell off and landed on my arm and I was crying. My friend helped me to walk home and my mum took me to hospital. The doctor said I had cracked a bone in my elbow.
If you could go back in time who would you most like to meet and why?
If I could go back in time I would like to meet Elvis Presley because I've wanted to ask him how he got famous and got so good at singing.