Health Care
Home Remedies: 'A cure for a cancer'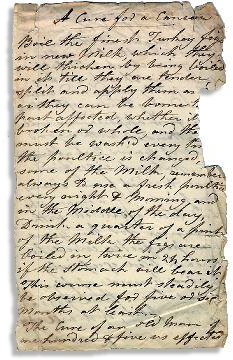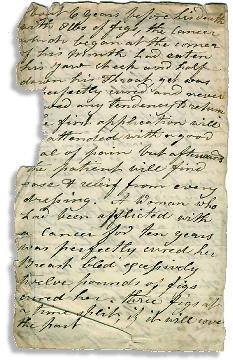 Powys County Archives
A Cure for a Cancer
Boil the finest Turkey figs in new milk, which they will thicken by being boiled in it till they are tender. Split and apply them [missing] as they can be borne [missing] part affected, whether it [missing] broken or whole, and the [missing] must be wash'd every ti[missing] the poultice is changed, [missing] some of the milk, remember always to use a fresh poultice every night and morning, and in the Middle of the Day, Drink a quarter of a pint of the milk the figs are boiled in, twice in 24 hours if the stomach will bear it. This cure must steadily be observed for five or six months at least.
The Cure of an Old Man of one hundred and five as effected about 6 years before his death with 8 lbs of figs, the cancer which began at the corner of his mouth had eaten his jaw, cheek and half down his Throat, yet was [missing] perfectly cured and never [missing]wed any tendency to return. [missing]e first application will [missing] attended with a good [missing]al of pain but afterwards the patient will find ease and relief from every dressing. A Woman who who had been afflicted with a Cancer for ten years was perfectly cured her breast bled excessively twelve pounds of figs cured her. Three figs at a time split, if it will cover the part
The following would appear to have been copied from a newspaper or magazine: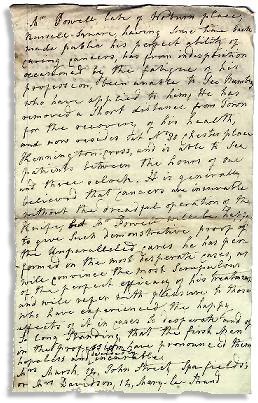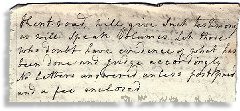 Mr Powell, late of Woburn place, Russell-square, having some time back made public his perfect ability of curing cancers, has from indisposition occasioned by the fatigue of his profession, been unable to see numbers who have applied to him. He has removed a short distance from Town for the recovery of his health, and now resides at No. 30 Chester Place, Kennington-cross, and is able to see patients between the hours of one and three o'clock. It is generally believed that cancers are incurable without the dreadful operation of the knife, but Mr Powell will be happy to give such demonstrative proof of the unparalleled cures he has performed in the most desperate cases, as will convince the most scrupulous of the perfect efficacy of his treatment and will refer with pleasure to those who have experienced the happy effects of it in cases so desperate and of so long standing, that the first Men of the profession have pronounced them hopeless and decidedly incurable.
Mrs Marsh, 14 John Street, Spa-fields; or Mrs Davidson, 14, Mary-le-Strand, Kent-road, will give such testimony as will speak volumes. Let those who doubt have evidence of what has been done and judge accordingly. No letters answered unless postpaid and a fee enclosed.
---