Health Care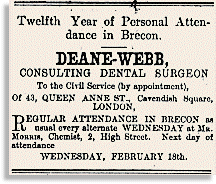 Advertisement from
the Brecon & Radnor Times
Powys County Libraries
Dentistry
In 1891, dentistry was a young profession, and this is reflected by the relative shortage of dentists in Powys at the time of the census. Although a professional body had been set up in 1858, it was not until the Dentists Act of 1878 that a register of persons entitled to practice dentistry was set up under the control of the General Medical Council, which also sought to supervise training and education. In spite of this there were still loopholes which enabled the unqualified to practice, and it was not until 1921 that this situation was finally remedied.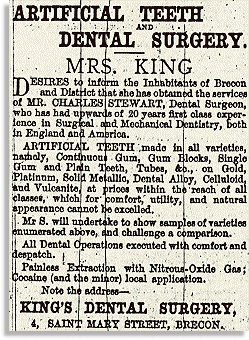 Advertisement from
the Brecon & Radnor Times
Powys County Libraries


"ARTIFICIAL TEETH and DENTAL SURGERY.
MRS. KING
DESIRES to inform the Inhabitants of Brecon and District that she has obtained the services of MR CHARLES STEWART, Dental Surgeon, who has had upwards of 20 years first class experience in Surgical and Mechanical Dentistry, both in England and America.
ARTIFICIAL TEETH made in all varieties, namely, Continuous Gum, Gum Blocks, Single Gum and Plain Teeth, Tubes, &c., on Gold, Platinum, Solid Metallic, Dental Alloy, Celluloid, and Vulcanite, at prices within the reach of all classes, which for comfort, utility, and natural appearance cannot be excelled.
Mr. S. will undertake to show samples of varieties enumerated above, and challenge a comparison.
All Dental Operations executed with comfort and despatch.
Painless Extraction with Nitrous-Oxide Gas; Cocaine (and the minor) local application.
Note the address --
KING'S DENTAL SURGERY,
4, SAINT MARY STREET, BRECON."