Health Care
Recipes for Invalids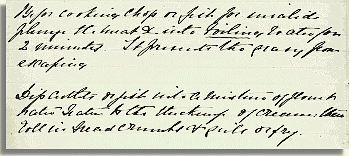 Powys County Archives
Before cooking chop or fish for invalid, plunge the meat etc. into boiling water for 2 minutes. It prevents the gravy from escaping.
Dip cutlets or fish into a mixture of flour and water beaten to the thickness of cream: then roll in breadcrumbs and grill or fry.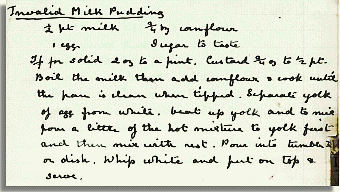 Powys County Archives
Invalid Milk Pudding
| | |
| --- | --- |
| ½ pt milk | ¾ oz cornflour |
| 1 egg | sugar to taste |
If for solid 2 oz. to a pint. Custard ¾ oz to ½ pint. Boil the milk then add cornflour and cook until the pan is clean when tipped. Separate yolk of egg from white. Beat up yolk and to mix pour a little of the hot mixture to yolk first and then mix with rest. Pour into tumbler or dish. Whip white and put on top and serve.
---