Health Care
Home Remedies: External
The collection has several remedies for aches & pains. As we have already said, we cannot recommend use at home!

For rheumatism

One spoonful of gum-guacum mixed with two teaspoonfuls of milk, add six drops of laudanum, and take it three times a Day. This is the quantity for one taking.

For a broken blood vessel.
Nettle root has been known to save the life of a person when a blood vessel is broken by chewing it! It will answer the same purpose if gathered in the spring and dried bark medicine to be taken afterwards.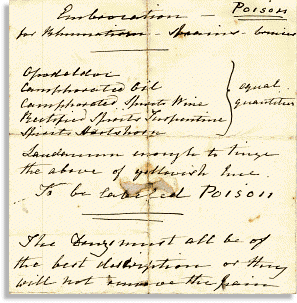 Embrocation - POISON - for rheumatism, sprains, bruises
Opodeldoc
Camphorated oil
Camphorated spirits wine
Rectified Spirits Turpentine
Spirits hartshorn
Equal quantities
Laudanum enough to tinge the above yellowish hue. To be labelled POISON.
Opodeldoc, or camphorated soap liniment, was a preparation of common white soap, camphor, oil of rosemary, and oil of Origanum. The roots or rhizomes of Osmunda regalis were used to make spirits of hartshorn.
The following two remedies are for chilblains and corns:
Chilblain ointment
1 Pint sweet oil
3 oz Venice turpentine
1 lb Hogs Lard (without salt)
3 oz Bees Wax
Put all into a pipkin or stone jar over a slow fire and stir it with a wooden spoon till the Bees Wax is all melted and the ingredients begin to simmer.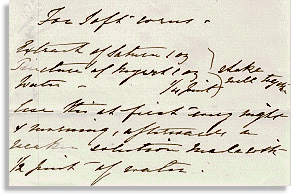 For soft corns
Extract of Saturn 1 oz.
Tincture of [illegible] 1 oz. Mix well together
Water ¼ pint
Use this at first every night and morning, afterwards a weaker solution made with ½ pint of water
Extract of Saturn, lead acetate, has astringent properties and was used for skin complaints.

For a violent burn or scald when the skin is off.
A Lump of hot Lime put into cold Spring water, mix as much sweet oil as will make an emulsion with it and apply it.
Thanks again to http://www.ibiblio.org/herbmed/eclectic/main.html for the searchable transcriptions of classic herbal texts.
---