Health
Illnesses and disabilities
Many of the diarists had illnesses or disabilities which affected their life on 24th September 2002.
My disabilities make me slow in the morning . . . Waiting for the 14.00 bus back home a friend pulls up and offers us a lift. Say yes very eagerly, as our shopping is heavy, the car has a very high lip in the front and try as I might I cannot get in by myself. My husband comes to the rescue and shoves my foot in and the other leg willingly follows, but it hurts and when we get home I'm happy to find getting out a bit easier.

Got up at 6.00am, tested my blood sugars as I am diabetic 8.8 this morning.


. . . a trapped nerve in my shoulder, and it is very painful . . . go to bed with hot water bottle on my shoulder at 10pm.


In the morning it was dark and dreary outside. I didn't feel my best. I had a blocked nose and chesty cough. I didn't have anything for breakfast because I couldn't eat . . .I started to feel worse but we had to carry on because we had another test to come . . .After Maths we had RE . . .half way through the lesson I felt a lot worse, so I had to go to the office. The secretary phoned home but no one was there so she phoned my sister at work and she picked me up.


(7 year old) I got up at 7am. Then I got my uniform on (thinking I was well enough). I then went downstairs. I had Weetabix mini-crunch. Then we set off to drop my sister off at school, but I couldn't do it. I sobbed and sobbed and sobbed so I went back home.


9.45am Physio examines my arm and says pain due to neck problems. Gives me treatment (moderately painful) tells me to return in 14 days.
10.45 To Oswestry by car for an eye test with new optician. Much relief that my eyes are no worse - have been seeing consultant for suspected glaucoma.


Earlier in the morning I had felt a pain in my arm, but it wasn't until later that I felt poorly.
Annie and I decided that I should be checked out in the local hospital, where it turned out I should be a patient for the night. A disappointing end to a perfect day.
Other diarists are affected by the illnesses of others around them.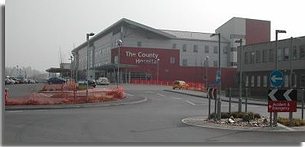 Hereford Hospital
But one lady had a very dramatic day due to her husband's illness.
He has been back and forth to Hereford Hospital for X Rays, blood tests, ultra sound, CT scan. Has been admitted for 3 endoscopy and had 2 stents implanted. We have travelled 800 miles back and forth. Everyone has been fantastic, especially our GP Dr Joy. Voluntary transport is available but the cost is £18 day - one week of our visits would have cost £70.
The day takes a more dramatic turn later in the day and finds he is
. . . very poorly so I phoned doctor . . . and took him down to surgery. They showed us straight into a little room instead of waiting room. Dr Evans phoned Hereford Hospital and asked for admission. No beds available but they would admit him through Accident and Emergency. I drove him to the hospital. When we got to Unit, reception took us straight through, they were waiting for us. Dr put up a drip and intravenous antibiotics. They were going to X ray. Would be a couple hours before they got him onto a ward. I drove home around 11.30pm.

What a day, but it just shows the commitment of medical services.
---