Health Care
Opticians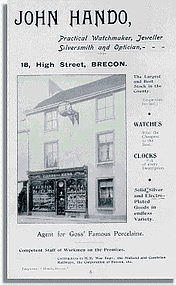 Professional examinations in optometry were not introduced until 1895 and the professional body, the British Optical Association, was established in the same year. Until then, at least in Powys, spectacles were produced by jewellers and watchmakers.
John Hando lived at 1 Lion Street with his wife:
1891 Census
1 Lion Street, Brecon
Name
Position in
household
Marital
status
Age
Occupation
Place of Birth
English/Welsh
speaker

John Hando

Head

M

36

Watchmaker

Newport, Monmouth

English

Elizabeth Hando

Wife

M

42

Chester, St John

English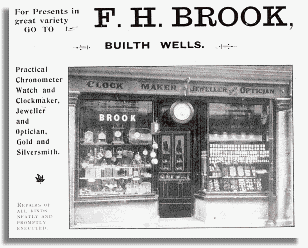 For F H Brook of Builth Wells, 'optician' was clearly associated with 'jeweller' at this time.
Frederick Brooks lived at the shop with his family in 1891:
1891 Census
56 High Street, Builth Wells
Name
Position in
household
Marital
status
Age
Occupation
Place of Birth
English/ Welsh
speaker

Frederick H Brooks

Head

M

37

Watchmaker and jeweller

Worcestershire, Cheddersley-Cabell

English

Emily M Brooks

Wife

M

29

Radnorshire, Presteigne

English

Emily M Brooks

Dau

S

6

Scholar

Breconshire, Builth

English

Frederick A Brooks

Son

S

4

Scholar

Breconshire, Builth

English
---