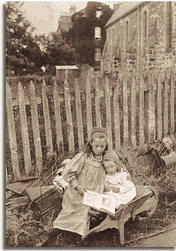 Radnorshire Museum
Home Life
Annie and Henry
This photograph, taken in Llandrindod c1890 by the local photographer Villiers, is in the collections of the Radnorshire Museum. The notes on the photograph say it is of Annie and Henry, although their surname is not given, and that it may have been taken at Ithon Road or Norton Terrace.
A search through the census for Llandrindod reveals an Annie and Henry of about the right ages living a short distance away in Crabtree Green.
Sadly the notes on the photograph also say that Henry was born on 16th June 1886 and died aged 8 in 1894.
1891 Census
7 Crabtree Green, Llandrindod Wells
Name
Position in
household
Marital
status
Age
Occupation
Place of Birth
English/Welsh
speaker
John Hurst
Head
M
39
Plumber
Nottinghamshire Lound
English
Mary A Hurst
Wife
M
29
Radnorshire Glascwm
English
Annie Hurst
Dau
S
6
Scholar
Radnorshire Llandrindod
English
Henry Hurst
Son
4
Scholar
Radnorshire Llandrindod
English
Elsie Hurst
Dau
3
Radnorshire Llandrindod
English
Walter Hurst
Son
9 mon
Radnorshire Llandrindod
English
---