Home Life
Pryce Jones and the Royal Welsh Warehouse: the Euklisia Rug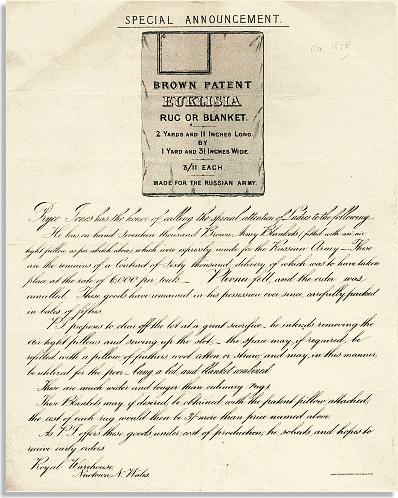 Special Announcement - Brown Euklisia rug or blanket
Powys County Archives
SPECIAL ANNOUNCEMENT
Brown Patent
Euklisia
Rug or Blanket
--.--
2 Yards and 11 Inches Long
BY
1 Yard and 31 Inches Wide
--.--
3/11 EACH
--.--
Made for the Russian Army
Pryce Jones has the honor of calling the special attention of Ladies to the following.
He has on hand seventeen thousand Brown Army Blankets (fitted with an air tight pillow, as per sketch above) which were expressly made for the Russian Army. These are the remains of a Contract of Sixty thousand, delivery of which was to have taken place at the rate of 6,000 per week. Plevna fell, and the order was cancelled. These goods have remained in his possession ever since, carefully packed in bales of fifties.
P.J. proposes to clear off the lot at a great sacrifice - he intends removing the air tight pillows and sewing up the slot, the space may, if required, be refilled with a pillow of feathers, wool, cotton or straw, and may in this manner, be utilized for the poor - being a bed and blanket combined.
These are much wider and longer than ordinary rugs.
These Blankets may, if desired, be obtained with the patent pillow attached, the cost of each rug would then be 3/- more than price named above.
As P.J. offers these goods under cost of production, he solicits and hopes to receive early orders.
Royal Warehouse
Newtown, N. Wales.
The Battle of Plevna took place in 1877, see Plevna for more details.

---