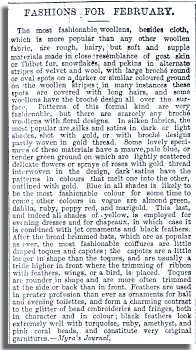 "The most fashionable woollens, besides cloth, which is more popular than any other woollen fabric, are rough, hairy, but soft and supple materials made in close resemblance of goat skin or Thibet fur, snowflakes, and pekins in alternate stripes of velvet and wool, with large broché round or oval spots on a darker or similar coloured ground on the woollen stripes; in many instances these spots are covered with long hairs, and some woollens have the broché design all over the surface. Patterns of this formal kind are very fashionable, but there are scarcely any broché woollens with floral designs. In silken fabrics, the most popular are silks and satins in dark or light shades, shot with gold, or with broché designs partly woven in gold

thread. Some lovely specimens of these materials have mauve, pale blue, or tender green ground on which are lightly scattered delicate flowers or sprays of roses with gold thread interwoven in the design, dark satins have the patterns in colours that melt one into the other, outlined with gold. Blue in all shades is likely to be the most fashionable colour for some time to come; other colours in vogue are almond green, dahlia, ruby, poppy red, and marigold. This last, and indeed all shades of yellow, is employed for evening dresses and for chapeaux, in which case it is combined with jet ornaments and black feathers.

After the broad brimmed hats, which are as popular as ever, the most fashionable coiffures are little draped toques and capotes; the capotes are a little longer in shape than the toques, and are usually a trifle higher in front where the trimming of ribbon with feathers, wings, or a bird, is placed. Toques are rounder in shape and are more often trimmed at the side or back than in front. Feathers are used in greater profusion than ever as ornaments for ball and evening toilettes, and form a charming contrast to the glitter of bead embroideries and fringes, both in character and in colour; black feathers look extremely well with turquoise, ruby, amethyst, and pink coral beads, and constitute very original garnitures."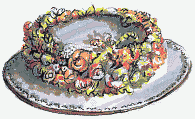 On 3 April, the Brecon & Radnor devoted quite a few column inches to fashion. The Ladies Gazette of Fashion stated that short jackets were passé; long ones were the thing, also Newmarket jackets in blue or black with double lapels, an upright collar, a deep basque and pockets in the hip seams. Three-quarter length capes were also fashionable. As spring was on the way, flowers were recommended as decorations for hats: violets, primroses, cowslips, lilacs, marguerites, wisteria, acacia, cornflowers, and roses, in the colours rose, pale green, apricot and light blue. Recommended shapes for hats were 3 corner straw, turban, large flat and large plateau.
Sylvia's Journal stated that the colours for gowns were blue, rich yellowy-brown, heliotrope and grey. Sleeves should be full to the elbow. The Ladies Treasury commented that lace was fashionable, both as trim or as an overskirt.