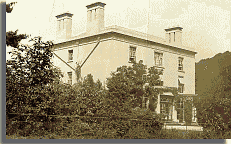 Home Life
John Hughes of Glangrwyney
Glangrwyney Hall near Llangenny in Breconshire (otherwise known as Sunny Bank) was owned or occupied by one Sophia Parkinson according to the 1891 census.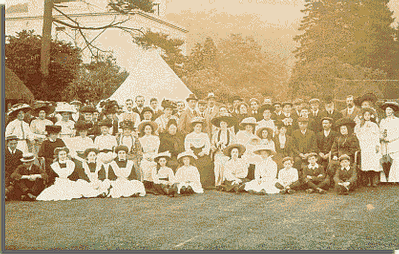 However, by 1901 it had passed to Trevor F Thomas who was an engineer from Merthyr Tydfil. He was a prosperous man who could afford to retain the services of several servants and a French governess for his young daughter Vivian.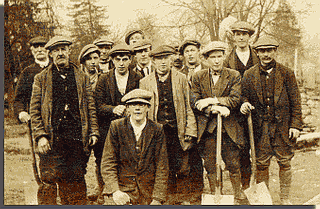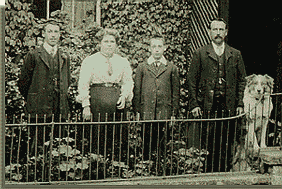 One of his servants was the gardener who lived at The Lodge to the main house, John Hughes.
1891 Census
Sunny Bank Lodge, Glangrwyney
Name
Position in
household
Marital
status
Age
Occupation
Place of Birth
English/Welsh
speaker
John E Hughes
Head
M
36
Gardener
Gloucester St Briavels
English
Emma Hughes
Wife
M
32
Hereford Madley
English
William J Hughes
Son
10
Monmouth Abergavenny
English
Henry T Hughes
Son
4
Brecon Llangenny
English
George W Hughes
Son
1
Brecon Llangenny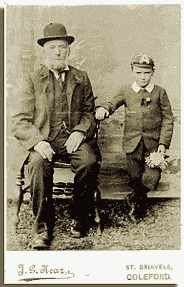 The Staff, Glangwryney
John Hughes is standing at centre back on the right.
Emma sits in front of John, to the left.
Powys County Archives
Mr Hughes' family photographs in Powys County Archives go back to the 1890s when Mr Hughes first took up employment there.
This picture is probably John's eldest son Willie with his grandfather.
John Hughes is again to be seen in these photographs of the staff from Sunny Bank. The boy in the foreground may well be his youngest son, George.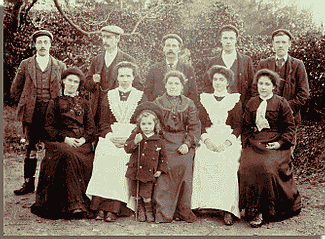 ---