Home Life
Household Tips from the Lewis Lloyd Collection
The Lewis Lloyd papers proved a rich source for recipes and remedies. Below are a few household hints from the collection: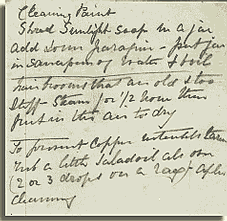 Household tips from the Lewis Lloyd Collection
Powys County Archives
Cleaning Paint
Shred Sunlight Soap in a jar, add some parafin - put jar in a saucepan of water and boil.
---
Hair brooms that are old and too stiff - steam for ½ hour then put in the air to dry
---
To prevent copper utensils tarn. rub a little salad oil [ ] (2 or 3 drops on a rag) - after cleaning.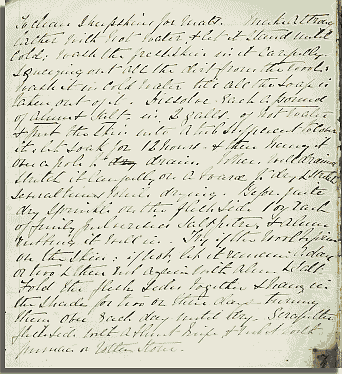 To clean sheepskins for mats
Powys County Archives
To clean sheepskins for mats
Make a strong lather with hot water, and let it stand until cold; wash the fresh skin in it carefully, squeezing out all the dirt from the wool. Wash it in cold water till all the soap is taken out of it. Dissolve each a pound of alum and salt in 2 galls. of hot water and put the skin into a tub sufficient to cover it. Let soak for 12 hours - and then hang it over a pole to drain. When well drained stretch it carefully on a board to dry and stretch several times while drying. Before quite dry sprinkle on the flesh side 1 oz each of finely pulverised saltpetre, and alum rubbing it still in. Try if the wool [ ] on the skin; if not, let it remain a day or two and then rub again with alum and salt. Fold the flesh sides together and hang in the shade for two or three days, turning them over each day until dry. Scrape the flesh side with a blunt knife, and rub it with pumice or rottenstone.

Receipt for damp houses
Powys County Archives
Receipt for damp houses
"The Joints are first cleaned out, then a mixture of fine sand dried in the oven mixed with linseed oil then painted on the top with white lead. The stones were painted with lamp black and linseed oil. The old house arled over with lime, then a mixture of cement and Blacksmiths ashes to make it dark put on with a brush"