Home life
A day in the life of a housewife
Newtown shops
I arose at 8am: with an extra busy day ahead, cooked sufficient breakfast to last me until dinner in the evening, with a few cups of coffee and tea in between times for sustenance. Gave 'Henry Hoover' his daily workout, and the washing machine its orders. Watered hanging baskets.
9.30am: Being market day here in Newtown and also pension day, off to town for weekly shop accompanied with a trolley, fully aware that it would be filled to the brim and quite a chore to push home over park and field, but also a pleasure, for the scenic beauty of mid Wales never ceases to enthral me, having spent my childhood in the concrete jungle of the big city.
The previous day I'd peeled a sack of shallots, now steeping in salt water, so I'd need spiced malt vinegar plus white vinegar for pickling eggs, and with Christmas in mind also chutney to be made, as I supply family and friends annually, which is very much appreciated by the working mothers amongst them, especially those with young children to care for, for they start another day's work on reaching home. Having myself done that for thirty years both I and many other pensioners are now wondering how on earth we managed it!
Anyway, in for a penny, in for a pound as the saying goes so 4lb strawberries, red and green tomatoes -onions - garlic - ginger - demerara sugar were unloaded, though minus pounds of Bramley apples needed as I have a tree full in the garden and need 2lbs for each batch of chutney, so out to gather those.
12.30pm: Before I began my culinary chores my priority was a good strong 'cuppa', then strawberry jam was made in 20 minute batches, though not in a black chained cauldron bubbling for hours over hot coals set in a black-leaded grate, but in a microwave oven set in a modern fitted kitchen (however did we manage without them?) Next; onions were put into jars and labelled, dated and recipients-to-be names added. So it's looking like Christmas already in the kitchen here and the aroma is very inviting, and what better than 'Old Fashioned Country Fayre' for an 'Old Fashioned' Xmas!
It's now 6.15pm: Last batch of chutney completed, so now it's off to 'Focus' to purchase sack of potting compost for geranium and other cuttings, but that's amongst tomorrow's jobs, and not before time as the chilly nights now herald the 'White Knight of Winter' (Jack Frost) who, although an immaculate artist doesn't have any mercy whatsoever in his annual mission. Sadly we're all aware of that!
7.15pm: Put kitchen back in order. Dinner. A couple of hours TV then . . .
'Goodnight Wales' or as we say here 'Nos Da'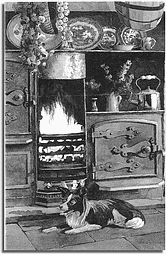 The diarist's mother's kitchen, with Old Bob by the fireplace
My mother was born in June 1902 and learned her scullery skills the hard way from her mother, so they were passed on to me. My grandmother met her husband whilst working in a country mansion on the outskirts of Stoke on Trent, she the upstairs maid and he the groom. Later he served in the 1914-18 war as a cavalry soldier (I still have his spurs). They later married and had 8 children and lived in a terraced house with a kitchen as in this picture:
...and with oil lamps that had to be lowered from the ceiling each Saturday, globe cleaned, wicks trimmed and 3d worth of paraffin renewed. The accumulator taken to be charged for wireless reception, cost 6d. A fire had to be lit under the kitchen boiler for washing clothes, and there was a huge zinc bath on the wall too.
When my mother married the houses then contained a black-leaded gas stove, so some progress had been made by 1927. I think people my age now have seen and been through far more changes than dear old Doctor Who!
Not iron poker on the right which grandad got red-hot and dipped in a glass of stout whenever he had a cold. There was also an extending wire fork for toast in the morning, though bacon etc was cooked in a Dutch oven attached to the fire bars and the heavy irons were hotted there too. Crockery was blue and white country scenes and the fireplace was never the same without 'Old Bob' who vacated it on reaching 17.
Nanna and grandad always too ¼ teaspoon glauber salts with their first cuppa every morning and I never knew any of them attend a doctor and lived 95 years.

---