Home Life
Knitting & Crochet patterns from the Lewis Lloyd Collection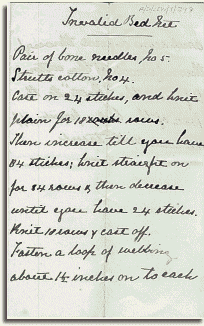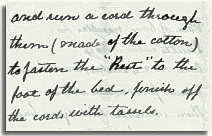 Knitting pattern for 'Invalid Bed Net'
Powys County Archives
This intriguing item sounds like a sort of catch-all to hold things?
Invalid Bed Net
Pair of bone needles, no. 5
Streetts cotton, no. 4
Cast on 24 stitches, and knit plain for 18 rows.
Then increase till you have 84 stitches; knit straight on for 84 rows and then decrease until you have 24 stitches.
Knit 18 rows and cast off.
Fasten a loop of webbing about 1 1/2 inches on to each and run a cord through them (made of the cotton) to fasten the "Rest" to the foot of the bed, finish off the cords with tassels.
---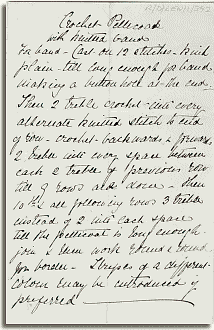 This petticoat has a knitted waistband with a crochet skirt. The instruction 'till the petticoat is long enough. Join then work round and round' allows for a slit from waist to hips, to enable the wearer to get in and out, like a skirt without a zipper.
Crochet Petticoat with knitted band
For band - Cast on 12 stitches - knit plain - till long enough for band, making a buttonhole at the end.
Then 2 treble crochet with every alternate knitted stitch to end of row - crochet backwards and forewards 2 treble into every space between each 2 treble of previous row till 9 rows are done - then 10th and all following rows 3 treble instead of 2 into each space till the petticoat is long enough. Join and then work round and round.
For border - Stripes of a different colour may be introduced if preferred.
---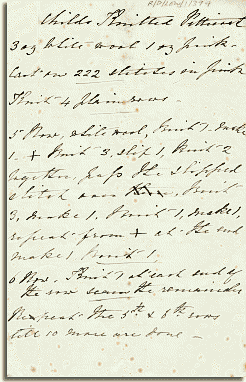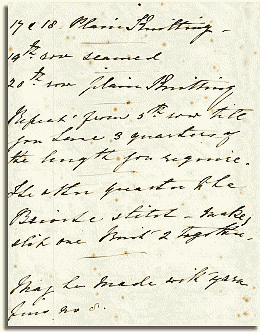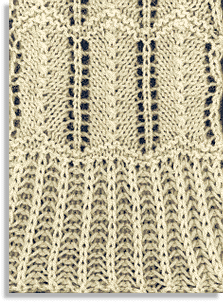 Petticoat stitch pattern as knitted.
'Scan' or 'scanned' was interpreted to mean 'purl'.
Brioche stitch creates a loose, frilly border.
Margaret Reid
This child's petticoat includes a bit of colour, and the pattern will create a herringbone effect.
Childs Knitted Petticoat
3 oz white wool 1 oz pink
Cast on 222 stitches in pink. Knit 4 plain rows.
5th row. White wool, knit1 - make 1 * knit 3, slip 1, knit 2 together, pass the slipped stitch over, knit 3, make 1, knit 1, make 1, repeat from * at the end make 1, knit 1.
6th row. Knit 1 at each end of the row [Scan?] the remainder.
Repeat the 5th and 6th rows till 10 more are done -
17 & 18 - plain knitting
19th row - [scanned?]
20th row - plain knitting
Repeat from 5th row till you have 3 quarters of the length you require. The other quarter [in the ] Brioche stitch - make 1, slip one, knit 2 together.
May be made with yarn pins no. 8.
---
This stitch pattern creates long loops, which pulled through each other to create a criss-cross pattern.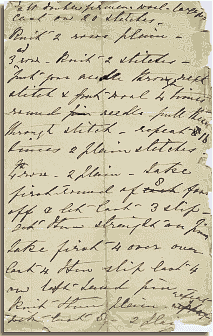 Stitch pattern
Powys County Archives




½ lb double firmer wool - large pins.
Cast on 20 stitches
Knit 2 rows plain
3rd row - Knit 2 stitches - put your needle through next stitch and put wool 4 times round your needle - pull these through stitch. Repeat 16 times, 2 plain stitches.
4th row - 2 plain - take first round of 8 each four off and [?let ] last 3 slip [?] then string it on pins
Take first 4 over over last 4 then slip last 4 on left-hand pin
Knit them plain. Repeat - with last 8 - 2 plain.
It should come out looking something like this: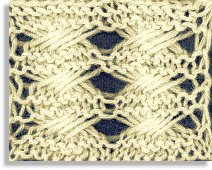 ---