Home Life
Home Reading
Some of the popular reading materials of the 1890s were advertised in local guides for Powys.
'The People' was already established as a national Sunday newspaper and offered a variety of entertaining reading for 1 penny. It also claimed contributions from some very distinguished literary figures.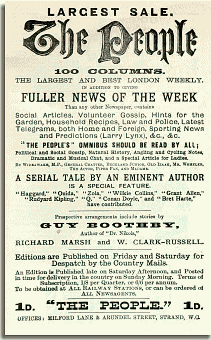 Advert for The People weekly, from
Heywood's Guide to Llandrindod Wells
Powys County Archives
LARGEST SALE
THE PEOPLE
100 Columns.
THE LARGEST AND BEST LONDON WEEKLY,
in addition to giving
FULLER NEWS OF THE WEEK
Than any other Newspaper, contains
Social Articles, Volunteer Gossip, Hints for the Garden, Household Recipes, Law and Police, Latest Telegrams, both Home and Foreign, Sporting News and Predictions (Larry Lynx), &c., &c.
"THE PEOPLE'S" OMNIBUS SHOULD BE READ BY ALL;
Political and Social Gossip, Natural History, Angling and Cycling Notes, Dramatic and Musical Chat, and a Special Article for Ladies.
By Wideawake, M.P., General Chatter, Buckland Junior, Old Izaak, Mr Wheeler, The Actor, Piper Pan, and Madame.
A SERIAL TALE BY AN EMINENT AUTHOR
is a special feature.
"Haggard," "Ouida," "Zola," "Wilkie Collins," "Grant Allen," "Rudyard Kipling," "Q." "Conan Doyle," and "Bret Harte," have contributed.
Prospective arrangements include stories by
GUY BOOTHBY,
Author of "Dr. Nikola,"
RICHARD MARSH and W. CLARK-RUSSELL.
Editions are Published on Friday and Saturday for Despatch by the Country Mails.
An Edition is Published late on Saturday Afternoon, and Posted in time for delivery in the country on Sunday Morning. Terms of Subscription, 1/8 per Quarter, or 6/6 per annum.
To be obtained at ALL RAILWAY STATIONS, or can be ordered at ALL NEWSAGENTS.
1D. "THE PEOPLE." 1D.
OFFICES: Milford Lane & Arundel Street, Strand, W.C.
Another journal which was very popular - according to its circulation figures - was Titbits magazine, although the significance of the 'insurance claims' remains an enigma. George Newnes also published 'The Strand', where from July 1891 Conan Doyle's Sherlock Holmes appeared on a regular basis.

Tit-Bits - The Oldest, Soundest, and Best
Popular Periodical of our Day
Advert from Heywood's Guide
Powys County Archives
Actual Circulation - Considerably over 500,000 Copies Weekly.
TIT-BITS
The Oldest, Soundest, and Best Popular Periodical of our Day.
The birth of this renowned journal marked an epoch in the literary history of the last decades of the declining century; and so amazingly firm has been its hold upon the affections of the British race that the swarms of imitators and competitors have not in the least degree affected the stability of the green-covered companion of our travels.
Every article that appears in
TIT-BITS
is primed with interesting facts, collected first-hand and compiled by the cleverest Journalists of the day; in addition to this, there are pages upon pages of Original Jokes, Stories, and Miscellaneous Paragraphs, as well as a splendidly written Serial Story by one of our foremost Writers of Fiction.
TIT-BITS
has actually paid the enormous sum of
£9,200 in Genuine Insurance Claims
, made in consequence of fatal Railway Accidents.
The great popular periodical, conducted by George Newnes, is published
every Thursday
, price 1d.; and it may be obtained from any Newsagent, Bookseller, or Railway Bookstall throughout the world.
George Newnes, Ltd., 8, 9, 10 & 11, Southampton Street, Strand, London, W.C.
For readers with a taste for fiction, Grumpy Grafton offered a substantial list of novels, again for the price of a penny.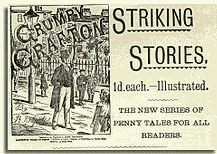 Grumpy Grafton Striking Stories.
The New Series of Penny Tales for all Readers
Advert from Heywood's Guide
Powys County Archives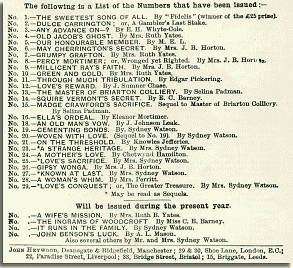 ---