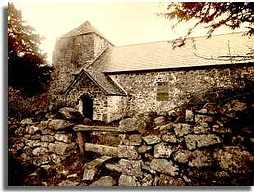 Romance in an old church
If you visit the tiny church of St Michael at Cefnllys, just two miles outside Llandrindod Wells, you will find an inscription on the pulpit which reads:- "In grateful remembrance of many pleasant services during the summer of 1895. Frances A Jordan, Llandrindod Wells. October 13th 1895."
| | |
| --- | --- |
| | |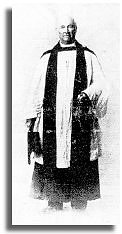 Miss Jordan was a 35 year old visitor from Leamington who had spent that summer staying at the Brynawel Hotel at Llandrindod. Her family were originally from Cardiganshire and also owned a house in Pembrokeshire. That summer in Llandrindod she had become friendly with the Curate, J F Lloyd, and his young wife. It had been a difficult year for the young Curate. The Rector of the parish, Archdeacon de Winton, had died in April leaving him in sole charge of the parish during the busy summer season. Naturally he had looked to his more experienced neighbours for support, and one of those who came to help him was the 39 year old bachelor Rector of the parish of Llanbadarn Fawr, just north of Llandrindod, Rev. Albert Jordan, D.D., LL.D., M.A.
Dr Jordan lived alone in a spacious rectory set in open country near the banks of the river Ithon. The house, which is still a rectory, had been built a few years earlier for the Rector by the Severn family who lived at Penybont Hall. The rector kept a housekeeper, maid and groom/gardener. His pocket diary for 1895 gives a good indication of the life he lived.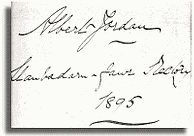 Each week-day in the earlier part of the year has two entries, one for the morning and one for the afternoon. Each is the name of a local farm or household. His custom was to have the groom bring his carriage to the front door by 10am. He then made one morning visit, returned home for lunch, and made the second visit in the afternoon. In this was he systematically visited his parishioners and kept in close contact with his community. The only variation was on Sunday, when his sermon text is recorded, and Saturday when he dined each week with his friend Percy Severn at Penybont Hall.
This ordered calm comes to an abrupt end with an entry in his pocket book for October 3rd: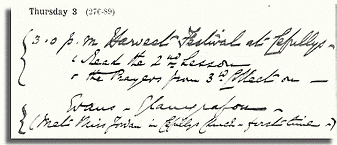 Thurs. October 3rd: 3pm Harvest Festival at Cefnllys. Read 2nd lesson and the prayers. Met Miss Jordan in Cefnllys Church - first time.
This is the Miss Jordan of Leamington mentioned above (not a relative of Dr Jordan, although the same name). Next day he is busy with his own harvest festival at Llanbadarn with services at 11am and 7pm, but the next day, Saturday, we have an entry.

4pm Tea at Rev J F Lloyd's, Llandrindod. Miss Jordan of Leamington present.
So, he has now met her twice in three days and has found out that she comes from Leamington. The next day's entries return to their usual order, but the following Wednesday 9th has the one entry:
Llandrindod Wells this day.
But no mention of Miss Jordan - clearly a fruitless journey. The next day he takes his courage in his hand and we read:


4pm Lloyd Llandrindod. Called on Miss Jordan at Brynawel for the first time.
Things now begin to move quickly. The next Monday we read:
Called at Llandegley Vicarage accompanied by Miss Jordan.
And two days later:
Miss Jordan and Mr and Mrs Lloyd came to tea.
We can imagine the special instructions the housekeeper must have received before they entertained such an important visitor and we can only wonder what Miss Jordan must have thought as she drove up the long drive to the Rectory on that October afternoon. It would appear that her impressions were favourable for over the next weeks Dr Jordan's diary frequently records a single entry "Llandrindod". This is the case for the 19th, the 21st and the 22nd, and we are not surprised to read on 24th: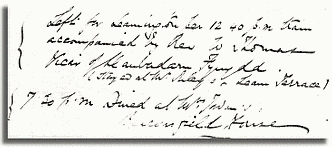 Left Llandrindod for Leamington per 12.35 train.
The purpose of this visit is clearly to see and be seen by Miss Jordan's parents. He stayed with them for a week, visiting Warwick Castle on the Monday and Stratford the next day, returning to Llanbadarn on November 1st.
On his return to his parish Dr Jordan returned to his daily routine of parish visits and Sunday duties. The only suggestion that things are different may be deduced from the addition of comments which appear after reports of services, such as "good congregation" and "fine service". But we do not have to wait long:
Monday December 2nd: 7pm meeting at Church School - presented with the sum of £19.8.0 towards purchasing Drawing Room Suite as a marriage present.
December 11th: Left for Leamington per 12.40 train. 7.30pm Dined at Mrs Jordan's Beaconsfield House.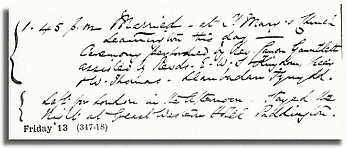 December 12th: Married at St Mary's Leamington this day.
The final entry in our story is:
December 20th: Returned home this day with my bride. Received hearty welcome from Sunday School children and parishioners. Floral Arch erected at the gates of the drive to the Rectory.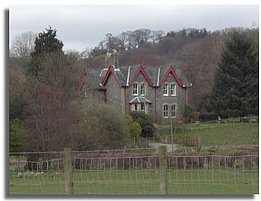 It had all happened in less than three months. Dr and Mrs Jordan were to live at Llanbadarn for 30 years and are both now buried in the churchyard there. Dr Jordan was to write a history of the parish which is still valued by local historians and his work in the locality is still remembered by some elderly parishioners.
They must have visited the neighbouring church of St Michael, Cefnllys, many times in their later life, and each time they did so memories of those happy events of the Autumn of 1895 would have returned to them both.

Rev Geraint Hughes
---