Home Life
Knitting & Crochet patterns: Stockings and a 'shoe'
Two patterns for socks/stockings were found, as well as one for a 'shoe'.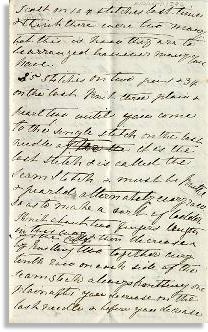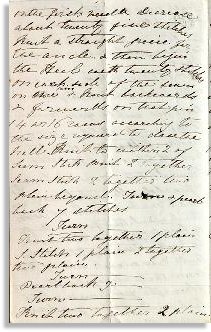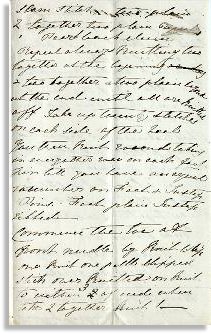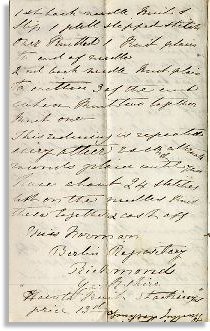 Knitting Stockings
Powys County Archives
"I cast on 104 stitches last time and think there were too many but this is how they are to be arranged however many you have.
35 stitches on two pins and 34 on the last. Knit three plain and pearl two until you come to the single stitch on the last needle. It is the last stitch and is called the seam stitch and must be knitted and pearled alternately every row so as to make a sort of ladder. Knit about two fingers length in this way and then decrease for the calf by knitting two together every tenth row on each side of the seam stitch always knitting one plain after you decrease on the last needle and before you decrease on the first needle. Decrease about twenty five stitches knit a straight piece for the ancle and then begin the heel with twenty stitches on each side of the seam on one pin and knit backwards and forwards on that pin 14 or 16 rows according to the size required to close the heel. Knit to within 2 of seam stitch, knit 2 together, seam stitch, 2 together, two plain beyond. Turn and pearl back of stitches.
Turn
Knit two together, 1 plain, S. stitch, 1 plain, 2 together, two plain.
Turn ----------------
Pearl back 9 ------------
Turn -------------
Knit two together, 2 plain, seam stitch, two plain, 2 together, two plain, repeat. Pearl back eleven.
Repeat always knitting two together at the beginning and two together and two plain beyond at the end until all are knitted off. Take up twenty stitches on each side of the heel.
You then knit round taking in every other row on each foot pin till you have an equal number on foot and instep pins. Foot plain, instep ribbed.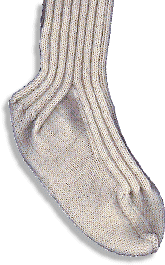 Stocking as knitted
Commence the toe at front needle by knit 1, slip one, knit one, pull slipped stitch over knitted one. Knit to within 3 of end where take 2 together knit 1
1st back needle - Knit 1, slip 1, pull slipped stitch over knitted 1, knit plain to end of needle.
2nd back needle - Knit plain to within 3 of the end when knit two together knit one
This reducing is repeated every other row, alternate rounds plain, until you have about 24 stitches left on the needles. Knit these together and cast off.
Miss Norman
Berlin Repository
Richmond
Yorkshire
"How to knit stockings" price 13d
Berlin woolwork, very popular in the 19th century, was cross stitch or needlepoint done on needlepoint canvas. It was used for footstools, cushions etc.
Mary Norman appears on the 1871 census:

1871 Census
Market Place, Richmond, Yorkshire
Name
Position in
household
Marital
status
Age
Occupation
Place of Birth
NORMAN Mary
Head
U
59
Berlin Repository
Yorkshire, Richmond
THOMPSON Mary
Servant
U
40
Domestic servant
Yorkshire, Brompton
Thanks to Christine Amsden for having this information available on her
site
.
This rather puzzling pattern seems to combine both knitting and crochet.


Receipt for a Shoe
Powys County Archives
Receipt for a Shoe
Cast on 50 stitches and work 4 ribs of crochet
Then work 24 stitches of another row and then work 4 ribs on the remaining 26, when they are done cast on 24 and then work 4 ribs to correspond with the other side.
Further notes on the
next page
detail how to knit a heel and how to reinforce the heel.
As well as these handwritten patterns, two photographs included knitting:

Two women in the
doorway of a cottage;
detail of larger photograph
Powysland Museum and Montgomery Canal Centre


Two women in mourning.
One is holding a basket with knitting.
Radnorshire Museum
---