Law and order
Civil law
The legal system in England and Wales is loosely divided into two sections: criminal and civil law.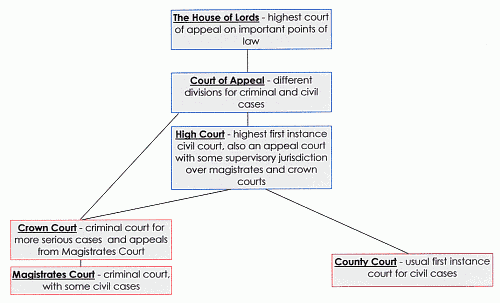 The County Court typically deals with small claims which are commenced by the claimant putting a 'summons' into court. This is a legal document giving details of what is claimed and why. It also deals with divorces, commenced by 'petition'. One county court in Powys described its work:
Today we issued the 182nd divorce of the year. We have seen a tremendous increase in divorces and Children's Act applications this year. We have issued 370 County Court summonses this year, this is lower than other years but the Court Service are encouraging issue to be done centrally on-line by a system called "Money claim online".
In addition the court is concerned to give a high standard of customer service:
The office is busy preparing for the Charter Mark application which is due to be submitted in 3 weeks time following which an assessor will visit the office in November. The Charter Mark measures the level of customer service and satisfaction.

---