Law and order
The police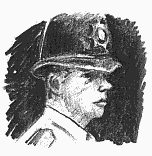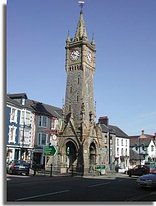 The Clock Tower, Machynlleth
Powys is policed by the Dyfed-Powys Police Force which covers Carmarthenshire, Ceredigion, Pembrokeshire and Powys. This area covers half of Wales and is the largest area covered by one force in England and Wales and its headquarters is in Carmarthen.

A Powys policeman enjoyed a day off on September 24th, although work was never very far away:
I woke up at about 8am which is a bit of a lie in. I won't be in bed again until about 7am, tomorrow as I am working nights as a police officer tonight . . . After helping to get the girls to bed, it's an hour's relaxation before work at 10pm.
Other Powys residents had dealings with the police on September 24th.
. . . went out to fetch the middle child home, and was stopped by the police on the way back because one of my headlamps wasn't working.

The new police sergeant called earlier to see if I had heard or seen anyone stealing the appeal box from the clocktower railings. I hadn't.

I should have non contact today, with a supply teacher covering my class but she rang in sick - I therefore have to spend the day teaching and also undertaking Headteacher tasks. Other supply teachers in the area are either not available or have not had their police checks completed.
And one schoolgirl says:
My opinion of the police is that they are great for doing their job, but they don't have to walk around like they know everything.
---
A day in the life of a Police Chief inspector can be seen
here
.