Social conditions
Credit Unions

These are extracts from the diary of an official in the Builth and Llanwrtyd Credit Union.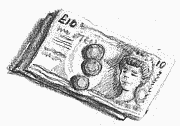 . . . after outdoor chores completed changed into clean clothes & switched on computer and checked emails, replying to the urgent ones. Printed off an Agenda attached to a previously received email ready for a meeting later in the morning at the Pencerrig Gardens Hotel between Llandrindod and Builth . . .
I collect some papers together for my meeting and go to the Pencerrig.
This is the very first meeting of its kind. There are a couple of dozen others there from all over Wales, and I think I know about half of them. It is a meeting arranged by the Wales Co-operative Centre in Cardiff for workers who are employed by Credit Unions across Wales. There is someone there from Pembroke Credit Union, from Ruthin Credit Union, Newport Gwent, Cardiff and so on. Powys is represented by a lady with Brecon and District Credit Union that I've never met before. Heart of Wales Credit Union covers Rhayader, Llandrindod and the Ithon valley and is represented by a lady that I do know who tells me they are doing the official opening of their new shopfront office next to the launderette in Temple Street Llandrindod on international Credit Union Day on 5th October and will I come to support the opening.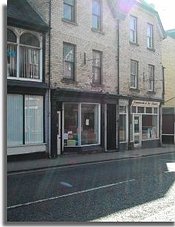 Today's meeting is happening because it is a time of great flux and growth in the credit union movement. The law has been changed and old restrictions have been lifted from us. We are now able to grow more easily. Also, since July, though we are still voluntary run by and for local people under the Industrial and Provident Society legislation we are now "Authorized and Regulated by the Financial Services Authority", and people who save with us now have the same protection and compensation scheme as the customers of the high street banks. It is an irony that banks and Post Offices are closing but we are opening up. In Llanwrtyd Wells we have a service point in the former National Westminster bank courtesy of the community co-operative that runs the Tourist Information Centre and Gift Shop in those premises. In Builth Road our service point is in the Cambrian Shop courtesy of the shopkeeper, who took us on about a year or so after she stopped operating the sub Post Office there. We also have a servicepoint in the Cammarch Bookshop in Llangammarch Wells courtesy of the owner. At each place our hours are better than bank hours.
We have great hopes of expanding to more places and Powys Council has helped the local Credit Unions to seize the opportunity to grow by giving us a small grant that helped us get a big grant from the European Regional Development fund. Which is how we are able to afford me, a part time worker employed to help the Builth and Llanwrtyd Credit Union to grow more quickly.
We have already done well to reach 200 members in 7 years and lend £100,000 to our members in small loans of typically £250 or so for holidays or car repairs or washing machines or wedding costs or whatever. Loan sharks have been moving in and now have an office in Builth and lend £100 if you repay £160 in a year but the Credit Union will lend the same amount and you only repay £106.
We are able to help the people who can otherwise only turn to the loansharks or very costly catalogue shopping. We have also found we are now attracting people who want to clear their Credit Cards as we are much cheaper. We are also amazingly user friendly as members own the Credit Union and control it, and get any dividend that can be made from the annual trading surplus !
The Pencerrig meeting goes well and we decide to keep contact with each other with one or two meetings a year if we can get speakers or trainers that will help give power to our elbows. We are nearly all on email and agree to email each other in the meantime when we need to pick each other brains on how good ideas worked in others' areas.
Wales Cooperative Centre has got a major grant from the National Assembly of Wales to help the process (and to help the Credit Unions of Wales in various other ways too). There is an optimistic atmosphere at the meeting as people are encouraged not just by the money in the grants, but the fact that finally we have been recognised as really worth while by Powys Council and other local authorities, the National Assembly , and Europe. We sit down to lunch and the business of learning from each other continues.
I also chat to one of the waitresses. She is young, from the Basque country in Spain, but speaks English well and tells me a little about Santander and Bilbao.
After lunch we hear first hand how the Llanelli Credit Union managed to grow so well so fast. It seemed to be all down to three people knocking on doors and spreading the word that way. Llanelli Credit Union now has a very impressive record and 1500 members.
We all drive away many sharing cars, but me on my own in my pickup truck to Builth to 20 Market Street to check in at the Credit Union main office. We are not normally open there on a Tuesday, so I check the mail and the messages on the free "1571" answerphone service we get from British Telecom. This service has nor been available for long, maybe about a year, but is really useful, especially as we were able to get an easily remembered phone no 01982 551000. Because we are run by volunteers and only open the main office in Builth part-time; and many members are in the remotest countryside it is difficult to be accessible so answerphone and email help a lot.
I get back to the office at 20 Market Street and carry on with some of the paperwork when a man comes in. He is a visitor to the area and is interested in the Credit Union because he and some friends are just beginning to try starting one up where he lives in Abergavenny. I tell him about all the latest changes in the law which are good but have brought higher running costs especially with increased fees, and try to persuade him to go for a Monmouthshire - wide Credit Union combined with a workplace credit union drawing from Monmouthshire Council staff. Workplace Credit Unions are now on the increase especially in local authorities where they are popular with the staff (who for Monmouthshire are oddly based outside their county in Cwmbran). Today's higher costs mean you cannot have lots of little Credit Unions , so you have to join forces to succeed. He goes to pick up his wife and travel on by coincidence to the Pencerrig Hotel for some other conference. I also run off a printout of dividends for Young Savers (under 16). The Secretary at Ysgol Dolafon, the primary school in Llanwrtyd Wells has sent an email saying that some of the children's savings books are showing a lower total than the personal statements we send them, and it looks as if some still need to have their dividend added to their balances in their books. Llanwrtyd Primary School is very positive and active on many fronts and the children themselves run a servicepoint in the school before the start of the school day on Fridays so I must find someone to take the printout to the school soon before Friday.
We must install email at the office as soon as possible to avoid having to find messengers. The children at the school using the servicepoint learn a lot, the few who children who run the servicepoint learn even more. Of course children are not offered loans, only a savings scheme. It helps with school trips amongst other things, and it gives children the option of saving. Many children nowadays when given money just keep spending till its gone as they see no other option. There was a time when every school ran a National Savings Stamps scheme and most children would bring in sixpence (in pre-decimal money) to buy a savings stamp to go in their book. The culture of saving has almost vanished since those days. But now across the UK quite a lot of credit unions are running Young Savers Clubs in the more vibrant schools in their areas, and the school adds it to their prospectus as well as picking up points on their civics, maths, economics, and other syllabus areas benefiting from practical real life experiences.
---