Social conditions
Work with people with disabilities
Many of the diarists worked to help people with disabilities, such as this man who works on a community transport facility: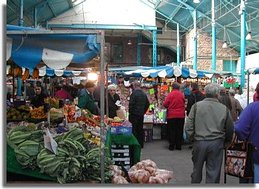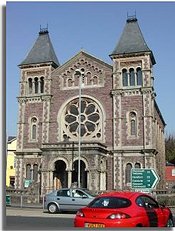 Abergavenny Baptist Church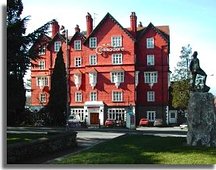 The Commodore Hotel, Llandrindod Wells
1. Took car, collected neighbour, drove to Crickhowell, checked out 'Dial-a-ride' bus and rove it to collect clients from Bwlch, Llangynyder, Llangattock, Crickhowell and took then to Abergavenny (market day). NB clients are disabled or elderly. Arrived late in Abergavenny due to need to detour via Glan Usk estate because of Llangynyder Bridge closure (10.20).

2. Talked to one lady client for ½ hr as she couldn't walk and stopped in the bus. Went to Abergavenny Baptist Chapel and had toast and coffee and talked to friends. Did a little shopping for self and clients - returned to bus.
3. Late driving from Abergavenny due to delay getting shopping for disabled client - left at 11.50.
4. Delivered clients back home and returned bus to parking area. Drove neighbour (escort) and self home.
Others have different roles:
My work as a Social Worker with people who are deaf cover s the whole of Powys which means spending a lot of time behind the steering wheel but I am around Llandrindod all day today. Arrive at the office just before nine and switch on the computer. Since I started working here in 1980 the bureaucracy has increased monumentally. The Department is obsessed with counting things.

After sorting post, emails and new referrals I attend a Radnor Deaf and Hard of Hearing Support Group committee meeting. This is a group of mainly hard of hearing volunteers who run a club for people with a hearing impairment and do great work lobbying for better service locally. We discuss fears that the local hearing aid clinic will be unable to cope with demand for the newly available digital hearing aids and that waiting lists are likely to go through the roof. I agree to find out who is the best person to write to at the Local Health Group.

After a home-grown tomato and chive sandwich at my desk a sharp walk around the lake and back as part of my keep fit resolution.

One of my visits this afternoon is to an elderly lady who is struggling to cope with severe and deteriorating hearing loss. We discuss equipment that might help her at home such as a flashing light for the doorbell and loop system to listen to the TV, but her main concern is how impatient people are with her and how isolated she is feeling.
---
The diary of a teacher of English to blind students can be seen
here
.