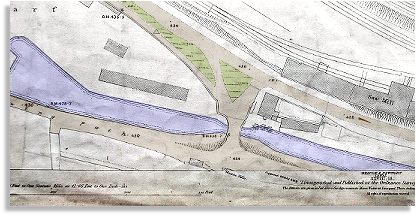 Ordnance Survey map showing the canal in Brecon
Colour added for emphasis
Powys County Archives
Transport
The Canal in Brecon
The canal in Brecon, completed in 1800, was built in order to lower the price of coal and lime being transported to the town. However, by the end of the nineteenth century only one market boat from Newport was still using it. The railways effectively spelt the end of the commercial use of the canal, although it did continue to be used for recreation.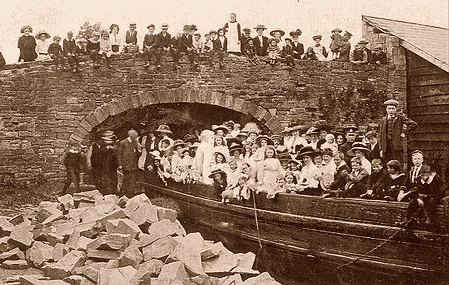 An outing on the Brecon canal
Brecknock Museum & Art Gallery
The census shows a few people involved with the canal - although one had retired.
1891 Census
4 Mount Street, Brecon
Name
Position in
household
Marital
status
Age
Occupation
Place of Birth
English/Welsh
speaker
Edwin Pornell
Head
M
49
Carpenter
Monmouthshire Govilon
English
Catherine Pornell
Wife
M
43
London Limehouse
English
James Pornell
Son
S
21
Surveyor's assistant
Brecon
English
Thomas Pornell
Father
Wid
77
Retired boat builder
Brecon Llanthew
English
Another man who was still working on the canal was David Morgan:
1891 Census
19 John Street, Brecon
Name
Position in
household
Marital
status
Age
Occupation
Place of Birth
English/Welsh
speaker
David Morgan
Head
M
53
Canal boatman
Breconshire Brecon
Both
Elizabeth Morgan
Wife
M
56
Radnorshire Glasbury
English
Mary A Lane
Dau
M
25
Breconshire Brecon
English
Norah E Lane
Grandaughter
4
Breconshire Brecon
English


Advert from Sutton's Directory.
Powys County Archives
---