Transport
Coach Builders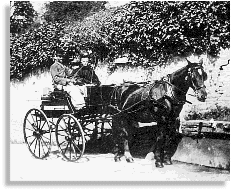 Horse-drawn transport in Crickhowell
Brecknock Museum & Art Gallery



There were many types of horse drawn vehicles and many people employed to build and maintain them.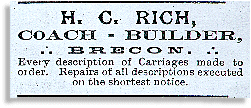 Advert for H C Rich, Coach-Builder
Powys County Archives
One of the most famous was Herbert C J Rich who had a road named after him. This was a prosperous family able to afford 2 servants.
1891 Census
41 Watton
Name
Position in
household
Marital
status
Age
Occupation
Place of Birth
English/Welsh
speaker
Herbert C J Rich
Head
M
71
Retired
coachbuilder
Corby Ionian Islands -
British subject
English
Herbert C J Rich
Son
M
38
Coachbuilder
Brecon St Mary
English
Emily G Rich
Daughter in law
M
36
Brecon St Mary
Both
Jane Rich
Grandaughter
13
Scholar
Brecon St Mary
English
Norah R Rich
Grandaughter
11
Scholar
Brecon St Mary
English
Herbert C J Rich
Grandson
9
Scholar
Brecon St Mary
English
Sidney C G Rich
Grandson
7
Scholar
Brecon St Mary
English
Rose L Rich
Grandaughter
5
Scholar
Brecon St Mary
English
Annie Bather
Servant
S
25
General Servant
Brecon St Mary
Both
Elizabeth Rogers
Servant
S
19
General Servant
Breconshire Llanfrynach
English
Herbert Rich's son was also acting as junior deputy registrar of marriages for Brecon Union according to Kelly's Directory of 1895.
By the time of publication of Kelly's Directory, the father of an engine driver had set himself up as a coachbuilder. Joseph Bregazzi advertised in the Directory as:
"Bregazzi, Joseph E. (successor to the late Henry Evans), coachbuilder & wheelwright, waggonettes and phaetons, dog carts and every description of vehicle built to order; estimates given; St David's Street Llanfaes."
Another coachbuilder was William R King. King had two sons employed in the coaching business too, both as painters.
1891 Census
13 St Michael Street, Brecon
Name
Position in
household
Marital
status
Age
Occupation
Place of Birth
Disabilities
English/Welsh
speaker
William R King
Head
M
67
Coachbuilder
Gloucestershire Bristol
English
Mary Ann King
Wife
M
56
Breconshire Brecon
Deaf
English
Bessie King
Dau
S
23
Breconshire Brecon
English
Charles King
Son
S
17
Coach Painter
Breconshire Brecon
English
Edward King
Son
S
15
Coach Painter
Breconshire Brecon
English
Bertram Poole
Nephew
11
Scholar
Herefordshire Hereford
English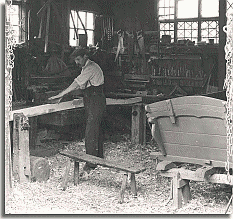 Wheelwright in Radnorshire
Radnorshire Museum
---