Work
A day in the life of a biographer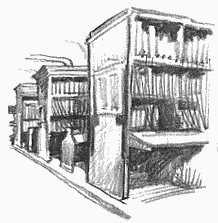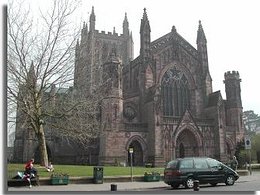 Hereford Cathedral
This entry from my desk diary needs a little introduction, over the last two years I have been working on a biography of Bishop James Atlay, Bishop of Hereford 1878 -1894. This able reformer is now largely forgotten although he has a magnificent memorial in the north transept of Hereford Cathedral.
Actual.entry
7.30 Bus to Hereford, 8.30 snack at All Saints, to the palace 9.00, Cathedral Library 11, Lunch, back to Library until 3.45 then 4.00 bus home to work up notes after high tea.
Tuesday 24th September, I have a special appointment at 9.00 to visit the Bishop's Office at the Episcopal Palace Hereford. Most of my research is done at the adjoining Hereford Cathedral Library but today am going to look at three things in the Palace. The first issue of the Diocesan Calendar, Atlays Letters of Enquiry to his incumbents (his parish priests, Rectors, Vicars or Curates) and Crockford's Clerical Directory.
Normally I use the Cathedral collection of Calendars but it lacks issue one. I wish to see what the first editors had to say about their intended annual publication. What were their hopes for its future. Was to be a very valuable handbook to the Diocese also carrying commercial advertising. The Church at this time was deeply concerned in social welfare and education building schools in many villages where they did not exist or enlarging and improving those that were in being, I know from reading later issues that the editors met considerable resistance as the clergy did not want to complete the questionnaire prepared by the editorial team. After two issues the then bishop old Renn Hampden died and the Calendar ceased publication until James Atlay became Bishop in 1878 when he played an active role in its running.
The preserved printed Letters of Enquiry for both Bishop Hampden and Atlay were sent out every three years and give a first hand picture of what the Church of England was doing at Parish level.
The palace has an almost complete set of Crockford so I have been able to get information on the various clergy who are drawn into Atlay's life.
I have now put together about 30.,000 words and look to heading for a further 20.,000, I have a growing archive of Atlay material, much relating to his and his wife's ancestors and what happened to his eleven children most of whom were born in the Palace.
As I collect new material I need to step back into what I have already written asking myself "am I right" or adding to it.
Today after lunch at the ultra modern "All Saints cafe" I returned to the Cathedral Library to continue to explore the Calendar. Now, I wish to know what "STP" means after a cleric's name. The Library holds a set of the full Oxford English Dictionary and under STP it notes Sacrae Theologiae Professor one who is qualified to teach theology. This preceded the modern degree of Doctor of Divinity (DD).
Not today, but at other times I have been helped by my local Hay Library team, the staff at Brecon Library and the Borderer's Museum the Watton, Brecon.
---