Work
A day in the life of a digital history project leader
I woke up early at 6:15 am. Woke my wife Nicky who also needed to get up so that she could get ready for her journey to school. I went down stairs and made tea for both of us while Nicky had a shower and got dressed. While she roused my daughter Mair who is three and a half years old, I showered and dressed. Mair was very grumpy for being woken up and wanted to sleep in (can't blame her!) Finally, we got her up and she started to chat about her impending day at nursery. Blew a raspberry at me when asked to put her shoes on. Stroked Nicky's 'bump' and felt the baby kick. Expecting baby on November 5th but can't help feeling it will be an early one!
All went down to the kitchen and prepared breakfast, cereal, juice, toast and coffee. Banned Mair from watching television as this leads to arguments in the morning. So put the radio on instead and helped Mair colour in a 'Thomas the Tank Engine' picture which she made me tear out and put in her bag for nursery. Nicky got her work ready for work and waited for her lift to arrive to take her. Judith (a fellow teacher and friend) arrived and came in - Nicky and Judith get set off on their journey to Presteigne in Judith's car which is a Ford Fiesta. It takes about half an hour to get to Presteigne, which is on the border with Herefordshire and is where they both teach. Mair and myself waved them off and then I hear the news of the project (Powys: A Day in the Life) on the radio. A good 'plug' for the project.
News dominated by the impending war with Iraq which is on everyone's mind at the moment. I brush Mair's and my own teeth, gather things up - straighten my tie and get in our car ( A Vauxhall Astra). Drop Mair off at nursery, along with a pretty dress - Mair is having her photo taken today re: the smart dress. Other grumpy children start arriving too. Mothers and fathers are all in a rush to get to work.
Arrive at work and manage to park car and enter through the side door. See Gwen who works there and who is usually in before everyone else and who is always smiling. Soon Anna arrives (she works with Gwen too and they are brilliant fun to work with. Margaret is the next to breeze in to the office. Margaret is one of the research assistants on the Project -- Helen is the other. Margaret stays behind to look after the office while we are all out and put the Diary on line at noon.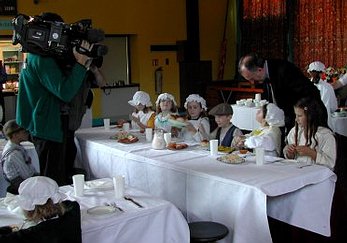 Victorian Breakfast at Ysgol Dafydd Llwyd, Newtown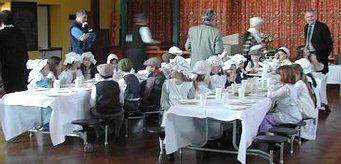 Victorian Breakfast at Ysgol Dafydd Llwyd, Newtown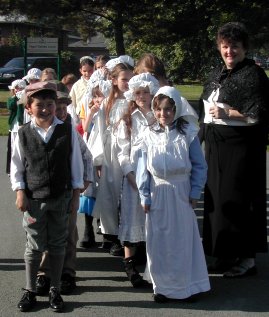 Breakfast Line-up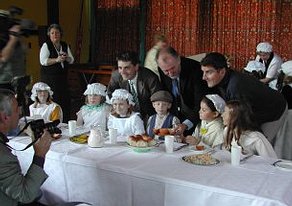 Posing for Photgraphs at Ysgol Dafydd Llwydd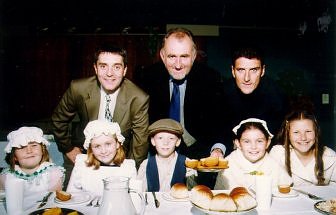 Posing for Photographs at Ysgol Dafydd Llwydd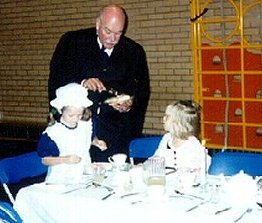 Pupils and Head teacher (Bill Bain) enjoying a High Tea in Builth Wells Primary School
Helen arrives and comes in all flustered, telling me I have "squashed Catherine's chances of meeting Iolo Williams!" (TV Celeb). This is because of some arrangements that were made yesterday with a TV Crew. 'Phoned Catherine up and told her not to worry and to get her things as we would pick her up on the way out to Newtown. Catherine very happy - she's glad to have a morning out of Archives where she works as manager. We head off to Newtown to meet the head teacher, Iolo and about 4 camera crews and photographers. The publicity is excellent. Helen drove in order for me to 'look fresh' for the media. The day was beautiful and sunny and really quite warm. We arrived at the school about 10:15am to find Welsh media already making reports. Met the reporter from BBC WALES TODAY and the reporter from S4C Children' programme. It turns out she lives in Machynlleth and is also keen to write a diary too. Siwan, a representative from the Translation Department was also there and was very nervous about being on TV.
HTV arrived with their reporter -- quite a florid character and affable. Anthony soon appeared after getting there earlier with a whole set of costumes which I had hastily organised with the help of Theatre Powys. Thank God he had got there early as they had caused absolute mayhem in the school. We all waited for Iolo Williams. Catherine was very pleased to meet him and I introduced everyone to each other -- first time I had met him even though I had spoken to him regularly on the phone! He seemed a great guy and not at all bothered by all the fuss. All the staff and the children at the school (the Welsh Unit there) were dressed in Victorian costume and they looked wonderful. The Head Teacher only spoke in English to the children instead of Welsh to give the children an insight as to what it was like to be at school in Victorian 1891. On the green outside I noticed he had a game of football with the children who all seem to love him.
We all went over to the hall and were met by a wonderful Victorian breakfast of smoked haddock, scotch eggs, kedgeree and tea buns all organised by Carol who runs Catering and Cleaning for Powys County Council. I had a long chat with her as the photographers and cameras set up. The children came in and their faces looked wonderful. Some of the children did not like the look of the food -- which was just as I had hoped and some stuffed their faces. Camera shots with the Head, Iolo and myself. Total confusion all about but thankfully this added to the excitement for the children who were really enjoying themselves. HTV filmed me and I was quite nervous but it went ok. Then BBC asked loads of questions. One being 'What kind of Council policies will be adopted as a consequence of this project?" My response was of total confusion -- what a stupid question! Started waffling on about confidentiality and closure on diary forms being a hundred years etc. and then realised I didn't really know what to say and so I stopped and told them I didn't really understand what they were talking about! Which made them all laugh and they dropped the question.
Afterwards I had long chat to everyone outside while Iolo talked about his school life and his trips abroad to film wildlife television programmes. We all talked about the prospect of War with Iraq which is on everyone's minds at the moment. I told him I thought George Bush's policy on 'Regime change' was blatant Imperialism and very dangerous indeed. The re-elected German Chancellor has had the guts to tell him "he was as bad as Hitler!". Can't help thinking he is right.
Any way we decide to give presents out to everyone and Anthony and myself got two bottles of decent Wine for Iolo and chocolates for Siwan. They seemed quite touched by it -- even though it didn't seem much for what they had done.
Drove back to Llan'dod and spoke to Margaret when we got in. She had had problems with the website which had been a bit of nightmare for her but she managed to sort it in her own way and had luckily managed to get Sion down from the IT dept. to come and sort the technical problems out. I took messages and sorted out a few things in the office before driving down to Builth Wells for the afternoon photo shoot. The Head Teacher was there to greet me. Bill is the head teacher of the primary school and he and his wife ( Judith who gave Nicky a lift) are really good friends of ours. He looked the part in his Victorian costume and showed me around his new school -- which is all new and well designed. The children were all dressed up. I met Carol again and she had organised a fantastic Victorian high tea, with cakes etc. The children came in and they loved it .
The photographers arrived . The Brecon and Radnor Express and The County Times, demanded the children get into various groups for pictures. Most of them were happy to do this but they were quite content to eat their food and drink ginger beer. A local vicar came along and luckily I had a Victorian jacket for him to wear. He said he would play the part of a Victorian benefactor just to give that little bit of authenticity. He was really good and even said a prayer for all the past and future pupils of the school.
Lynwen, who has been helping us with the translation for our project, arrived and we chatted. She was actually on leave before leaving for a new job in Carmarthenshire where she lives and commuted from every day!. She was sad to go I think but glad not to travel as far. Anthony and myself and Phil helped tidy up for Carol before heading back.
Got back to the office -- checked emails and decided to go home. Absolutely knackered! Drove from work to home and gave Mair a big kiss as both Mair and Nicky were now at home. Played with Mair doing her ABC jigsaw (which for three and a half years old she knows off by heart and recognises the letters!). We all had dinner which Nicky had been cooking for most of the day in the slow cooker. A lovely ragu sauce with pasta and Parmesan cheese with salad. I took Mair to the bottom of the garden and put the vegetable cuttings in the compost bin a (which is now some thing Mair loves doing). I watched the news on TV and realised that HTV had not used the report and they did with us that morning. The BBC did do a brilliant one though but I obviously ended up on the cutting room floor -- relieved and miffed at the same time!
Later we both took Mair to bed and Nicky read a story to her from her favourite book. 'The gruffallo' which I could hear from down stairs because Mair loves to do the voices in her 'Barbie' tape recorder microphone. Nicky came down and I gave her a back massage as she is tired with the pregnancy before chatting and going to bed. I can't help thinking back to last year when this little family was plunged into despair with two sudden deaths in the family. Nicky's grandmother, Evelyn, died suddenly and the day before the funeral we lost what would have been our second child -- Charlie. He was buried with Evelyn a week later in Hastings. So far a way. It makes you appreciate what you do have.
Up to bed where I read the last chapter of my novel 'The English Passengers'. Loved it and felt sorry it had finished. Time 10:55pm

---