Work
Farmer John Stephens: Crops and Stock
John Stephens describes the crops planted in 1898-9 which included oats, wheat, barley, swedes and 'mangels' (a type of beet often used for cattle fodder and sometimes known as mangelworzels), and the fields in which they were planted, using the field names.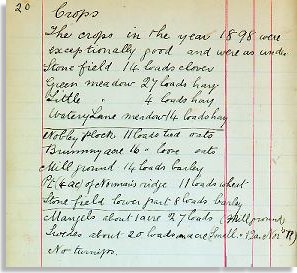 Extract from pocket book
Powys County Archives
Crops
The crops in the year 1898 were exceptionally good and were as under.
Stonefield 14 loads clover
Green meadow 27 loads hay
Little meadow 4 loads hay
Watery Lane meadow 14 loads hay
---
Nobley plock 11 loads tied oats
Brummy acre 16 loads loose oats
Millground 14 loads barley
Pt (4 ac) of Norman's ridge 11 loads wheat
Stonefield lower part 8 loads barley
---
Mangels about 1 acre 27 loads (Millground)
Swedes about 20 loads acre (Small + 2a. Nor's R)
No turnips
1899 took its toll on stock, however, and this was reflected in the prices he could expect for them at market.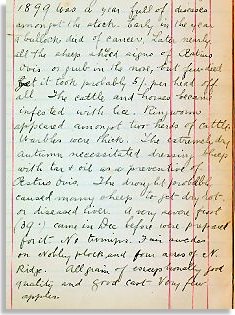 Extract from pocket book
Powys County Archives
"1899 was a year full of diseases amongst the stock. Early in the year a bullock died of cancer. Later nearly all the sheep showed signs of Oestrus Ovis or grub in the nose, but few died yet it took probably 5/- per head off all. The cattle and horse became infested with lice. Ringworm appeared amongst two herds of cattle. Warbles were thick. The extremely dry autumn necessitated dressing sheep with tar and oil as a preventive of Oestrus Ovis. The drought probably caused many sheep to get dry rot or diseased liver. A very severe frost (39°) came in Dec before were prepared for it. No turnips. Fair swedes on Nobley plock and four acres of N. Ridge. All grain of exceptionally good quality and good cast. Very few apples."
However in 1901 he commented:
"Summer came in earnest at last and brightened up the look of things very much. Prices were up more still and the Boer War seemed over."


Extract from pocket book
Powys County Archives
---