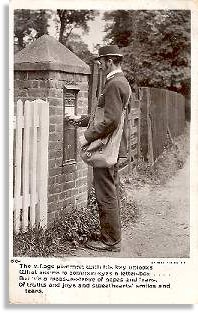 A village postman in 1891
Collection of Sadie Cole
"The village postman with his key unlocks
What seems to common eyes a letter-box . . .
But 'tis a treasure-trove of hopes and fears,
Of truths and joys and sweethearts' smiles
and tears."
Work
Work of a Rural Postman in 1891
In 1891 Presteigne Post Office was in Broad Street, and the Sub-Postmaster was Ernest Jones. He was also a printer, stationer and registrar of births. He had two clerks to help in the Post Office, Hannah Culley (or Colley) of Chapel Terrace and Emma Jones of High Street; the latter's father was the town postman. In addition there were three rural postmen - Herbert Williams, John Lewis and James Young.
Presteigne was a market town serving a number of small villages, many small isolated communities, and scattered farms. It was the centre for postal delivery and despatch for a considerable area of east Radnorshire and part of Herefordshire. It must be remembered that in 1891 not every house was entitled to have their letters delivered; the General Post Office had been talking about offering this service for almost 50 years since just after the advent of the Uniform Penny Post in 1840. However, by 1891 the free letter delivery service was nearly complete, thanks to the work of the rural postmen, and it was finally completed in 1898. To have free delivery, dwellings had to be within 70 yards of the postman's official route; it thereby follows that many isolated farms and cottages in an area like Radnorshire would have been without the service.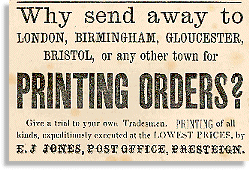 Advert for E H Jones from
Presteigne Parish Magazine, 1893
Collection of Sadie Cole
(It was Anthony Trollope, better known as a novelist, who whilst working as a Surveyor for the Post Office was instrumental in laying the foundations of many rural delivery routes. He was also responsible for the introduction of the roadside letter boxes to facilitate the collection of letters.)
By 1891 many small sub Post Offices had opened in small villages, working in conjunction with the larger town offices. There were three sub-offices of Presteigne at this time, each with its own sub-Postmaster: one at Norton with Amos Mantle in charge, another at Combe where Annie Lucas presided, and the third at Byton. Letters and parcels were left at these offices for collection by people whose houses were not included in the postman's 'walk' (his delivery route - walk is still the term used by postmen today). Letters and parcels were also left for the postman to carry to his main office.
With a little imagination we can follow one of Presteigne's rural postmen through his day.
He would arrive very early at the Post Office; it was a rule of his employment that he live in the town where he was based. Before going on his 'walk', he would sort the mail delivered by horse and cart from Leominster into a pile for each postman and sub-office. When this was done, he sorted his own letters and parcels into order of delivery. This is still called facing the letters. He then checked if there were any registered letters or parcels to deliver, and signed that he had taken charge of any registered mail and had all the correct paper work for them.
As well as delivering letters and parcels, he also had to collect them from houses and sub-offices. He also sold stamps and accepted registered mail. So that these extra duties could be done properly, each postman was issued with a leather pouch containing several official items:
Five shillings' worth of stamps. As it only cost 1d to post a letter and ½d for a postcard he possibly carried 40 x 1d and 40 x ½d stamps. Every day he needed to check that he had this many stamps, together with
All the forms needed for registered letters and parcels;
A measuring tape and spring balance to measure and weigh parcels.
No parcel could exceed 3ft 6 in long and 2ft 6in in circumference, and he could not accept parcels weighing more than 11 pounds from any one person, nor if he werefully loaded. As well as all these, he had a whistle to blow as he approached any group of houses to warn of his arrival so that anyone with a letter to be collected could bring it to him.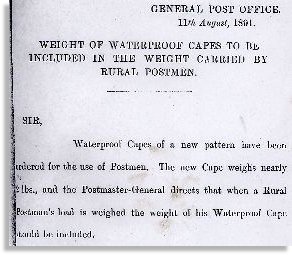 Weight of Waterproof Capes To Be Included In
The Weight Carried By Rural Postmen
Post Office Circular to Surveyors, 1891
Collection of Sadie Cole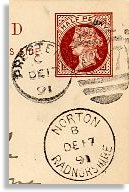 Detail of postcard with
Duplex Obliterator stamp
Collection of Sadie Cole
When he left Presteigne Post Office he was not expected to carry any more than 35 lb. but this was frequently exceeded. When in 1891 a new type of waterproof cape was issued, the weight of this had to be included in the 35 lb.
We do not know the exact routes taken by the rural postmen but we do know that the average distance for a circuit was 16 miles. As the Post Office Surveyors were keen to include as many people as possible in the delivery, this route would be carefully chosen for the shortest distance between villages. This often meant that the route took the postman across fields and stiles. Many of our public footpaths today began life as postal delivery routes. We do know that there was a strict timetable to be adhered to and our postman could be the one who delivered first to Stapleton, where he had to be by 8 a.m. From Stapleton he went to Combe, delivering to every house within the 70 yard limit as he walked; maybe at times he had to cross fields and climb stiles. He was due at Combe Sub Office at 9 a.m. Here he delivered any supplies needed by Annie Lucas, and left letters and parcels to be called for by people living too far from his route. By 10 a.m. he had to be at Byton, after which his route took him to Kinsham and Willey. His 'walk' possibly ended at Boresford where there was a small shelter where he could wait until it was time to return to Presteigne, collecting letters from the roadside letter boxes on the way. These boxes had to be emptied at definite times: Byton 4.45 p.m., Combe 5.30 p.m. and Stapleton 6.15 p.m. This done, he returned to Presteigne Post Office where he delivered the collected mail for sorting into local and non-local letters. Local mail would be delivered the next day; those for further afield were transported to Leominster where they were put on the train for Worcester and Birmingham for national sorting.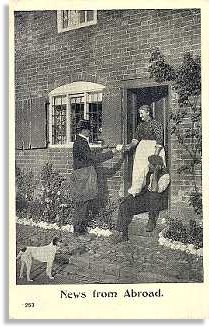 Collection of Sadie Cole
This postcard (detail above) dated 17 December 1891 was left at Norton Sub Office to be collected by the rural postman on that 'walk'. Here it was given the Norton handstamp of that date to show when it had been received. It was then taken to Presteigne Post Office where the stamp was cancelled with the Presteigne Duplex Obliterator. This ensured that the stamp could not be used again and also served as proof of when and where the postcard entered the Royal Mail system. This type of handstamp is called Duplex because in one half it shows the town name and date of posting and in the other it shows the Post Office number of that town - Presteigne 627.
The life of a rural postman was very hard in 1891: he worked long hours, seven days a week for an average wage of 16/- per week. If his route were more than 14 miles a day he was entitled to every other Sunday off. At least there were no parcels carried on Sundays. There was a little concern about the fact that this Sunday duty prevented the postmen from attending Church services.
Before he was appointed, the rural postman had to agree, and sign, 57 rules laying down his duties and conduct. They included:
"Not to carry parcels by their string . . ."
"No calling 'by' while working . . ."
"No smoking on duty . . ."
"No lobbying about pay and conditions to the public . . ."
"Not to be connected directly or indirectly to the ownership or management of a public house . . ."
"He is forbidden to agitate for the discontinuance of a Sunday delivery."
"He must live where he starts his walk."
"Uniform to be worn at all times when on duty."
Should he be found breaking any of these rules, it could result in a fine or even dismissal. Arriving late or without his hat or tie were common causes for a fine. Being found drunk on duty was instant dismissal.
He was allowed two weeks' holiday a year, but this was a recent introduction. In 1881, when the rural postmen of Leicester petitioned the Postmaster General to be allowed annual leave, the reply included the remarks "that their work is performed in more healthful conditions than that of Letter Carriers in populous towns . . . that they have advantage of relief or partial relief from Sunday duty." Their petition was refused.
So we have a picture of the rural postman carrying his heavy load seven days a week, along 16 miles of tracks and fields, climbing stiles, opening and shutting gates on his way - done in all weathers for about 16/- a week.
Sadie Cole
April 2002
---