Work
A day in the life of a sewing machinist
My day starts at 6.55 am with the alarm, have a cup of tea first and get my two children at 7.30am. They get their own breakfast, then get sorted and off to school. I start work at 9.15am and get there on my bicycle, we don't own a car. I sew men's neckties and do about 400 a day.
12.30 is dinnertime, another large army plane goes over the town, there have been a few lately. My sewing machine was playing up today, but the factory mechanic soon fixed it. Finish work at 3.15pm and back home.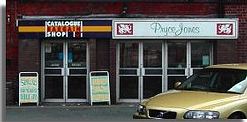 Sit down for ½ hour with a nice cup of tea. We took a walk to our local catalogue bargain shop andbought 4 window blinds, saved £45, a good bargain.
Back home to get on with tea - burgers chips and beans today. Kids went out to play while me and their dad sit and relax and catch up on the day. We cleared up the tea things, sorted some washing then measured our windows and cut blinds to correct length. Kids get their own supper and sorted for bed, both settle by 10pm. I went for a bath, made sandwiches for dinner tomorrow, watched a bit of TV and off to bed about 12 o'clock, set alarm for morning and off to sleep zzzzzzzzzzzzzzzzzzzzzzzzzzzzzzzzz
---