A Day in the Life of Knighton
These photographs and captions are by Roger Casstles, recording life in the Radnorshire town of Knighton on 24th September 2002.
05:30
Royal Mail Sorting Office, Knighton

24th September was the day staff were told of new major plans to re-organise the postal service with implications for new ways of working and possible job cuts.

05.30
Royal Mail Sorting Office, Knighton

05:30
Royal Mail Sorting Office, Knighton

06:30

Royal Mail Sorting Office, Knighton, it's a fine but very cold morning -- the first touch of Autumn - the first van is about to leave on its round

Stars Newsagent which also doubles as the town's main post office -- it's here that many of the postal drivers stop off for early morning treats to set them up for their rounds -- sweets, drinks, fags and newspapers.

06:42
The Clock Tower, Knighton

07:49

The first 'Up' train arrives in Knighton station, en route from Swansea to Shrewsbury -- it's one of eight trains, four each way, which serve the town from Mondays to Saturdays.
The train driver and guard. They left Crewe at 04:54 taking a train to Llandrindod Wells where they swap with the crew from Swansea and bring the train from Swansea up to Shrewsbury. The journey time from Knighton to Shrewsbury is about 50 minutes.

08:15

Pupils of secondary school age arrive at the 'bus station' in Bowling Green Lane to wait for the buses which will take them to John Beddoes School in Presteigne.
Local bus company Owens has the contract to bus the kids to school.

Some of the passengers.

Broad Street, Knighton

The old 'Norton Arms Hotel' has been changed recently to the Knighton Hotel. The exterior was newly painted in the summer of 2002.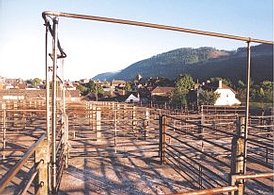 The Cattle Market, Knighton

After a tough year brought about by the Foot and Mouth epidemic, the market is now back in operation, but not on Tuesdays! Market Day is Thursday and after an economically disastrous year, prices for cattle and sheep are relatively buoyant. Strict precautions are in force -- vehicles and footwear are thoroughly disinfected before entry into the market area.
---