1891

In English

Hafan

Addysg

Amodau Cymdeithasol

Bywyd yn y Cartref

Cyfraith a Threfu

Cymuned

Diwylliant

Gofal Iechyd

Gwaith

Powys: Y Pryd Hynny a Nawr

Trafnidiaeth


Mynegai


E-bost





Addysg
Byrddau Ysgol
Erbyn Deddf Addysg 1870 roedd y Byrddau Ysgol wedi'u sefydlu. Roedd y Ddeddf yn rhannu'n ardaloedd ac fe fyddai trethdalwyr lleol yn ethol aelodau. Wedi ethol, roedd gan y Bwrdd y grym i sefydlu ysgolion yn eu hardal os oeddynt o'r farn nad oedd yna ddarpariaeth ddigonol, a threthi fyddai'n talu am y rhain. Y Bwrdd fyddai'n rhedeg yr ysgol.
Roedd gan Ysgol Llanganten ym Mrycheiniog Fwrdd tebyg i hwn. Roedd Henry Lloyd (cadeirydd), Parch D Davies, R Williams, A P Morgan, S M Bligh, a R W Edwards yn aelodau o'r Bwrdd. Roeddynt yn cwrdd bob mis ac roedd rhai o'r cyfarfodydd yn eithaf byr, gan ganolbwyntio ar dalu cyflogau a chyfrifon eraill.
Ar adegau eraill roeddynt yn delio â materion megis presenoldeb yn yr ysgol:
| | |
| --- | --- |
| "Mr Williams Master of Llanganten School, having complained about the irregular attendance of the children it was decided that the absent ones should be looked up and parents written to. Moved by Rev D Davies, Seconded by R Williams" | |
Fe fyddent hefyd yn caniatáu gwaith atgyweirio ar ysgolion, ac ar un noson arbennig pan gafwyd cyfarfod cyffrous ar 26ain Awst 1891 wnaethant ddelio â nifer o faterion:
| | |
| --- | --- |
| | "That a bell be ordered for the use of Llanganten School the size to be decided upon by Mr Bligh. Moved by Mr A P Morgan, seconded by Mr Bligh. |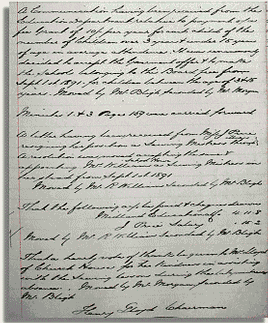 Cliciwch ar y ddelwedd er mwyn gweld fersiwn mwy o faint
A communication having been received from the Education Department relative to payment of a fee grant of 10/- per year for each child of the number of children over 3 years and under 15 years of age in average attendance. It was unanimously decided to accept the Government offer and to make the schools belonging to the Board free from September 1st 1891 for children between the age of 3 and 15 years. Moved by Mr Bligh seconded by Mr Morgan.
Minutes 1 & 3 pages 159 were carried forward.
A letter having been received from Miss J Price resigning her position as sewing mistress through illness a resolution was moved accepting the same and appointing Mrs Williams, School House, as sewing mistress in her stead from September 1st 1891.
Moved by Mr R Williams seconded by Mr Bligh.
That the following accounts be paid and cheques drawn:
Midland Educational account 4.11.8
J Price Salary 15.2
Moved by Mr R Williams seconded by Mr Bligh

That a hearty vote of thanks be given to Mrs Lloyd of Church House for her kindness in assisting with the sewing lessons during the last mistresses absence. Moved by Mr Morgan seconded by Mr Bligh."
Yn olaf, bu'r cyfarfod ar Fedi 30ain yn delio â mwy o ddyletswyddau difyr: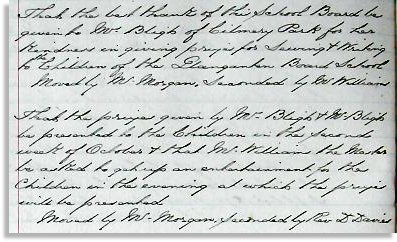 "That the best vote of thanks of this school Board be given to Mrs Bligh of Cilmery Park for her kindness in giving prizes for sewing and writing to the children of the Llanganten Board School.
Moved by Mr Morgan seconded by Mr Williams.
That the prizes given by Mr Bligh and Mrs Bligh be presented to the children in the second week of October and that Mr Williams the Master be asked to get up an entertainment for the children in the evening at which the prizes will be presented.
Moved by Mr Morgan seconded by Mr D Davies."
---